Blog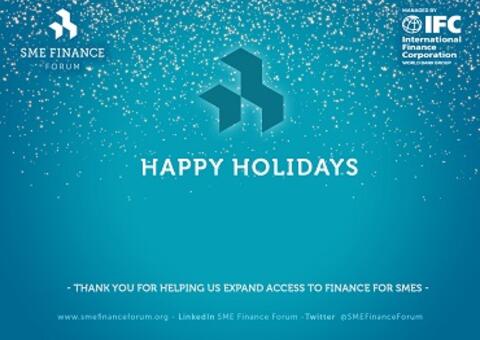 CEO message to SME Finance Forum members
Dear Member,
As 2019 draws to an end, let me take this opportunity to thank you for your support of the SME Finance Forum. 2019 has been a remarkable year for the SME Finance Forum, a year of continued strong growth in our membership, and ever-strengthening partnerships around the world.
Since our launch in November 2015, we've grown from a few dozen committed early adopters into a global membership network. In fact, we welcomed our 167th member at the Global SME Finance Forum 2019 in Amsterdam, and more institutions are exploring membership opportunities, marking an increase in membership of 30% over the past two years.
A few highlights from 2019:
More than 650 participants from more than 280 institutions and 75 countries convened in Amsterdam in October for perhaps our strongest annual conference yet.
Her Majesty Queen Máxima of the Netherlands, the UN Secretary-General's Special Advocate for Inclusive Finance for Development, opened this meeting with strong praise for our progress to date, noting: "The SME Finance Forum has done great work in building a global network with more than 160 member institutions."
Our Members-only webinars were attended by more than 25 institutions each month to engage on key emerging and technical topics such as AI, risk management, banking as a platform, de-risking innovations, credit scoring, and non-financial services to name a few.
Member institution DBS hosted an immersion program on Digital Transformation in Singapore and member institutions JD Digits and Yillion Bank joined ICBC, the world's largest bank, for another immersion visit to Beijing.
The Financial Stability Board led a tele-workshop in which our members were invited to comment on their new research on the impact of post-crisis regulatory reforms on SME access to finance.
2019 has also been another great year for our donors and partnerships. I would like to extend our sincere appreciation to our donors, particularly Germany and the Netherlands, for their strong support and unwavering commitment to promoting access to finance for SMEs. Our donors' generous support enables the SME Finance Forum to continue to offer a wide range of services for our members and to advance the global agenda for accelerating finance for SMEs.
I would also like to thank our sponsors for the Global SME Finance Forum 2019 - MasterCard Foundation, Experian, Phongsavanh Bank, and Strands. Without your support, we would not have been able to deliver such a successful conference.
I'd also like to recognize our partners of the Monetary Authority of Singapore, Finovate, Money 2020 and Lendit, and our Forum members FEBIS, Kafalah and BIIA, who engaged the SME Finance Forum and our members in key speaking roles in their meetings over the past year. And finally, we would like to thank Rajeev Chalisgaonkar for having accepted to chair the Community of Practice (CoP) on Risk Management to further advance knowledge and practices in risk management.
With the Saudi Presidency of the G20 kicking off this month, and new member applications streaming in post-Amsterdam, 2020 looks to be another productive year of building on our strengths and introducing new initiatives in partnership with our members, donors and partners!
On behalf of the SME Finance Forum Advisory Board - Isaac Awuondo, Natascha Beinker, Paulo de Bolle, Thomas J. DeLuca, Martin Holtmann, Anzi Hu, Dawei Liu, Michael Makau, and Jay Singer - and our entire SME Finance Forum team, we wish you all the best in this holiday season and thank you again for your support and engagement in 2019.

I look forward to engaging with all of you in 2020.
Best regards,
Matt Gamser
CEO- SME Finance Forum