Blog
Driving the adoption of digital payments for SMEs: Tips from member vcita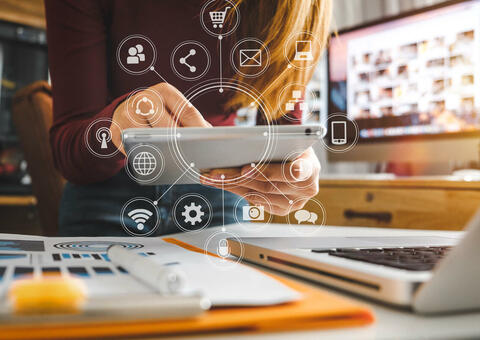 This blog is the summary of our Member Spotlight with vcita.
In this member spotlight session, we were honored to have vcita, which helps small business owners build and manage their business through an easy-to-use business management platform. vcita's digital tools help business owners automate time-consuming administrative tasks like scheduling, payment collection, and marketing campaigns, so they can focus on creating great client experiences. vcita took us through the journey to build strategic partnerships with global enterprises to create long-lasting customer engagement and new SME growth opportunities. We learn the vital role of digitalization for SMEs as it allows them to remain innovative and successful in the competitive business landscape.
Challenges entering digital era 
Building a seamless digital experience is often expensive and full of challenges for SMEs: 
50% don't want to feel limited to physical commerce and cash payments
40% struggle to get access to the credit and capital that they need to grow their enterprises.

66% in need of more protection against cyber attacks 

56% not digitally enabled at the onset of the pandemic 

74% worried about financial fraud 

Evolving Customer Needs. 
Lack of a Defined Strategy. 

Budget Concerns and Constraints. 

Ineffective Data Management. 
The COVID-19 pandemic has driven innovation and emphasized the importance of online platforms, which has enabled many SME owners to embrace the digital era and overcome the difficulties.
Bridging the digital gap and leveraging technology
vcita simplifies payment management and automates time-consuming administrative tasks with a user-friendly mobile app designed for SMEs. By introducing the vcita app to small business clients, financial partners become part of the SME day-to-day activities. 
The app delivers payment solutions within the SME business framework, enabling SMEs to manage their payments in context. With vcita, SMEs can manage their clients, time, and money with one single app.
These are some of the app's main areas of service:
Payment collection and tracking 
Client relationships and communication 

Appointment and event management 

Loyalty and retention 

Reports and dashboards 

Serving clients online 
vcita's mobile app brings access to the data generated by the system such as listing the number of clients, outstanding invoices, how fast things are paid, etc. Clients can pay upon booking a service or get an invoice and payment link via email or text message. Businesses can spend less time chasing payments and have more time spending with clients.
SME growth and new strategic partnerships
By keeping a high profile and a steady stream of engagement, customer loyalty and satisfaction increase, vcita helps banks and SMEs to not only simplify payments, support a wide range of workflows but also build deep-rooted and lasting relationships based on trust.
The app offers streamlining payment beyond transaction through automating and semi-automating the billing cycle and orchestrating payments. This innovative tool also brings a seamless billing cycle for SME owners and clients. Specifically, payment fragmentation is reduced by enabling one aggregative payment environment. Furthermore, institutions are easier to keep track of via a real time dashboard and reports that analyze business performance which will potentially help in growing revenue. 
As an infrastructure provider, vcita offers a solution that does not only save SMEs time on day-to-day tasks but also help them grow.
"This is a product that serves everyone, especially business owners that are tech-heavy. Having a product that is inclusive, accessible, and provides an easy learning experience will get users into full-adoption mode," said Rachel Numan-Schapiro, Director of Product Marketing at vcita. 
Why partner with vcita?
● Retention & stickiness: Become immersed in the SME' day to day, becoming part of the operational core. 
● Increase transactions: Payment solution delivered in context helps increase online payment adoptions. 
● Beyond transactions: Offers a complete business solution. 
● Modular platform: Seamlessly integrate your services to create SuperApp experience and deliver a wide range of services through one digital front door.