Our events
Global SME Finance Forum 2023 - Registration is open for Members!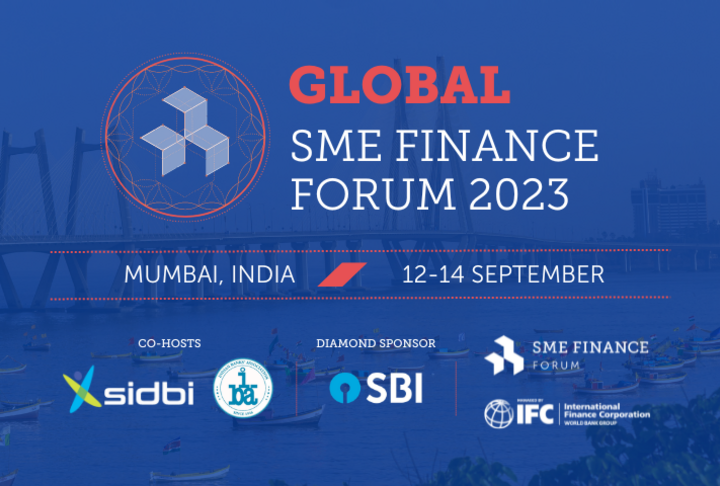 We are very happy to announce that registration to our Global SME Finance Forum 2023 is open for Members of the SME Finance Forum!

As a member, you can join for free and bring colleagues along.
The Global SME Finance Forum is the world's highest-level, most technically in-depth, most geographically diverse event focused solely on SME financing. It takes place in a different city each year, attracting C-level industry leaders, leading policymakers and regulators from 100+ countries.
Two themes have resonated throughout the history of these events: the importance of digitalization, both of financiers and of SMEs themselves, and the need to think beyond lending and beyond just financing in servicing the SME market. This year's meeting will bring these two key themes together, focusing on how the cutting edge of SME financing has moved into broader digital ecosystem building for SMEs, their customers and their business partners.
Taking place on September 12-14 in Mumbai, India, the three-day conference will focus on digital ecosystem structures and the roles of public and private sector institutions in their construction.
The participants will also explore the ways to tackle SME ESG issues and compliance/traceability for investors and consumers through digital ecosystems.Other cross-cutting themes will be integrated into the 3-day event, including supply chain financing, financial inclusion of women entrepreneurs and migrant/displaced entrepreneurs, risk management, agrifinance and digital transformation.
In addition to keynote speakers and panelists, the event includes FinTech company demonstrations, an in-person Members Meeting, Communities of Practice sessions, networking opportunities and site visits to local innovators.
This event is co-hosted by our member SIDBI and the Indian Bank's Association.
---
Registration for non-members will be available soon.
Non Financial Services
Gender Finance
Rural & Agriculture Finance
Supply & Value Chain Finance
Sustainable Finance
Digital Transformation