Blog
How Can Insurance Support the Recovery and Resilience of MSMEs?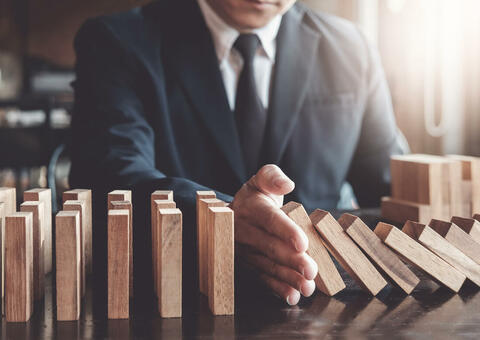 This is the summary of a member-only webinar.
Insurance is a critical financial tool to help MSMEs reduce their risk and recover after experiencing tough times. SME Finance Forum hosted this member-only webinar with Jeremy Gray from Cenfri, Pranav Pasricha from Swiss Re Group, Kapil Mehta from SecureNow, and Susan Holliday from IFC as moderator.
During this session, panelists shared their views about the role insurance can play in supporting the growth and resilience of MSMEs.
The state of SME insurance
SME development is at the core of economic growth, employment, and innovation and is the backbone of the whole community, but SMEs remain largely uninsured.

A "Missing Middle": In Africa, there is a lack of useful tailored solutions to target the SME insurance market.

In India, the distribution channels that connect insurers and SMEs are missing.

Insurance is adapting quickly, driven by new risks (e.g., cyber, sustainability) and the reshaped value chain.
How to improve SME insurance coverage?
From the perspective of researchers and policymakers (
Cenfri
):
Segment MSMEs and provide customer-driven insurances by using two parameters:

Survivalist vs aspirational: distinguish whether SMEs operate purely or have a real aspiration to grow.

Economic activity / value chain: understanding how the value chain function is essential to identify appropriate aggregators and provide customer-driven insurance products.

Identify key aggregators and distribute financial services.

Move from being just an insurer to a risk management partner to build MSME resilience.

Figure out MSMEs' needs and offer suitable solutions.

Be prepared to prevent risks, rather than only paying claims.

To develop a systematic MSME resilience, insurers should think more about holistic recovery.
Swiss Re Group supports insurance companies to provide SMEs with simple, fast, and reliable insurance to support post-event remediation and help the economy be resilient.

Cyber insurance, parametric insurance, automotive insurance, and agricultural insurance: behavior / real-time monitor, automatic and personalized assessment.
From the perspective of insurance brokers (
SecureNow
):
Provide well-structured and affordable insurance for SMEs.

When few insurers were willing to serve firms with fewer than 100 employees, SecureNow structured products to enable smaller firms to get this coverage.

Structured quarterly payments instead of the original yearly payments to make insurance more affordable for SMEs.

Ensure the diversity of insurance providers.

Install a fully digital client onboarding cycle. This includes providing all the information that SMEs need to take an insurance decision on the website and digitally supporting placement and servicing of insurance, for example, through e-claims.

Education by itself is not enough, insurance brokers should take the lead in deciding which insurance is in the best interest of the small business. The insurances should be placed in a way that the likelihood of claims settlement is high.

In the pandemic, handling claims digitally through the SecureNow app is vital for SMEs to get the benefit of insurance.
More insights from the speakers
SME insurance in Africa: missing middle, segmenting MSMES, understanding the value chain and preventing risks
The Centre for Financial Regulation and Inclusion (Cenfri) is a non-profit think tank that supports financial sector development and financial inclusion in Africa. Jeremy Gray, the Lead of the Resilience Team at Cenfri, illustrated the current situation of SME insurance in Africa and explained the term "a missing middle". There are a number of tailored solutions to target large corporates and emerging solutions in developing countries that support specific sectors. There is also a significant scale for individual insurance that reaches many low-income people. However, as SMEs are highly heterogeneous, insurers can't offer a single product that effectively meets SMEs' needs, resulting in the situation of the "missing middle". Many corporations have been impacted by COVID-19, but for SMEs, especially SMEs in Africa, as so few enterprises had any form of insurance, the insurance industry didn't play any role in enabling SMEs to respond to or recover from the COVID-19.
Under this circumstance, there are two emerging opportunities for the SME insurance market: become customer-centric in the SME market and move from being just an insurer to a risk management partner.
Segmenting MSMES and understanding the value chain: Since each SME has very different demands, it's important to disaggregate SMEs. There are two practical parameters to segment MSMEs. Firstly, to distinguish whether those enterprises operate purely to provide a basic income or have a real aspiration to grow. Secondly, insurers need to understand the different risks SMEs face within each value chain or sector to create more suitable products. For example, enterprises operating in the tourism sector face a vastly and fundamentally different set of risks from those operating in the manufacturing sector. Accordingly, understanding the value chain is essential to identify appropriate aggregators and provide customer-driven insurance products. Jeremy took the example of the tea value chain and the maize value chain in Kenya. One key difference between these two value chains is that in the tea value chain, Kenya Tea Development Agency plays a central coordination role for smallholder farmers, while the maize value chain does not have a strong coordinating function. Therefore, it is easier to distribute financial services to the tea value chain.

Preventing and preparing for risks

: Jeremy highlighted that to effectively build MSME resilience, instead of just paying claims after the risks happen, insurers should look at ways to prevent and prepare for risks. For instance,

Mix Telematics

tracks drivers' driving behaviors and offers telematics solutions bundled with insurance solutions, combining prevention with the response.

Parcyl

provides sensors that track goods while they're in transit, ensuring the atmospheric conditions inside those containers remain at an acceptable level, which decreases the risks that insurers need to face in the cold chain storage. Similarly,

Lumkani

offers the early warning for fire. Furthermore, to develop a systematic MSME resilience, insurers should also think more about the recovery, including both financial recovery and mental health recovery, especially during the COVID-19 pandemic.
Cyber, automotive, and parametric agricultural insurance solutions
Swiss Re Group, one of the world's leading providers of reinsurance, insurance, and other forms of insurance-based risk transfer, is very active in driving technology innovation and risk and data services innovation. It is a specialist in a numer of areas relevant to SMEs, including cyber insurance, property insurance, automotive insurance, and parametric insurance. Pranav Pasricha, the Global Head P&C Solutions for Swiss Re Group, indicated that insurance is becoming more agile, driven by new risks and the reshaping of the value chain.
Cyber insurance. As more and more businesses are conducted digitally, cyber risk becomes an essential business risk, especially when a company obtains confidential information. Swiss Re Group provides solutions that serve SMEs, covering a wide variety of cybercrime, cyber damage, and digital business interruption scenarios.
Parametric insurance. Swiss Re's parametric insurance Solutions insurers build products that allow customers impacted by events like earthquake, wind and rainfall, or even flight delay to get paid without lodging a claim or doing detailed damage assessment. The company's digital platforms enable simpler, faster, and more reliable insurance to make cover accessible to more of the world's population.
Automotive insurance. Pranav Pasricha also introduced their automotive insurance during his presentation. Swiss Re's Advanced Driver Assistance Systems (ADAS) Risk Score helps Insurers adjust their rates in line with safety features of each vehicle and its Telematics solution helps provide cheaper insurance rates to good drivers. As use of more advanced, autonomous and electric vehicles increases, the industry needs to adjust to offer suitable products. In the long term the industry has to come up with Solutions to address coverage for accidents caused by the driver and the Car's software.
Agricultural insurance. Apart from developing parametric agricultural insurance solutions in multiple countries, they also utilize advanced technologies (e.g., satellite) to assess soil moisture, rainfall, and crop production and give early warnings to the farmers. In short, Swiss Re endeavors to supply post-event remediation and support SME resilience.
The state of SME insurance in India: medical coverage and COVID-19
SecureNow Insurance Broker Pvt Ltd is India's largest independent B2B insurtech platform. As an insurance broker, SecureNow focuses primarily on commercial insurance for small businesses. Kapil Mehta, the Co-Founder of SecureNow, pointed out that there are 60 million small businesses in India, but only 10% to 15% have insurance. Most of the other SMEs want to buy insurance but don't know how to go about it because the distribution channels that connect insurers and SMEs are missing, and SecureNow is diligently building these pipes.
During FY2021, group medical insurance became the largest part of the commercial insurance business of SecureNow, accounting for over 40%. COVID-19 made the group medical insurance even more important, but few insurers were willing to serve firms with less than 100 employees. To solve this problem, SecureNow structured special products in discussion with insurers and used digital approaches to distribute this insurance to smaller firms. In addition, during the pandemic, the cash flow problems led to premium payment problems. Thus, SecureNow issued several key responses toward COVID-19. In March 2020, the company re-directed the entire staff, including underwriters, to speak with clients and ensure business continuity. In April, they adapted to new government regulations for mandatory health covers for SMEs, introduced E-claims option for reimbursement health claims, and offered workers' health insurance and specialized COVID-19 insurance for smaller firms. In May, SecureNow structured quarterly payments instead of the original yearly payments to make insurance more affordable for SMEs. Later, the company broadened health services to get the best doctors involved in video-consultations with clients, such as mental health consultations. Many of these services were given as value added benefits to clients and their employees.
For SecureNow, installing a fully digital client acquisition and onboarding cycle is the key feature of their work. Another essential feature is the diversity of insurance providers. This allows SecureNow to provide multiple options to small businesses.
Covid-19
Data & Cybersecurity
SME Insurance