Blog
How Did FinTech Companies Manage to Continue Growing During the COVID-19?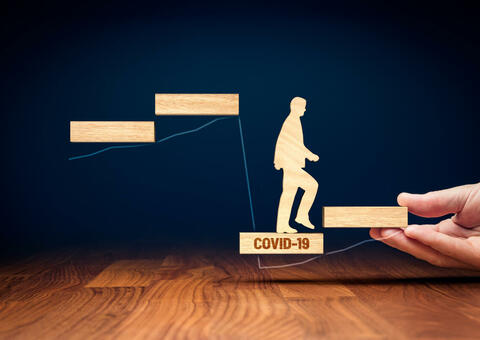 Main questions that have been discussed during this virtual roundtable:
What roles the alternative financier can play during the pandemic?
What is the silver lining for alternative financiers to survive during the COVID-19?
How have financial technology firms been able to continue growing during the pandemic?
This study is based upon firm-level responses from over 1,400 financial technology firms from 169 countries and received the greatest number of responses from digital lending, digital payments, and digital capital raising. These three categories made up more than 50% of all samples.
The global FinTech market is growing, but performance is uneven across verticals. And one outlier, digital lending firms, reports the decrease in total transaction volume (H1 2020 compared to H1 2019).
FinTech companies from jurisdictions with more stringent Covid-19 lockdowns reported slightly higher transaction volume and number of transactions.
The global FinTech market performance is also varied between emerging markets and developing economies (EMDEs) and advanced economies (AEs).
Over two-thirds of firms were reporting making at least two or more changes to their core offering as a response to the pandemic, and a further 30% were in the process of implementing changes.
60% of all financial technology firms at the global level are launching new products, services, and features. Value-added non-financial services were among the top choices.
To support various COVID-19 related socio-economic relief measures, financial technology firms can play an active role as a delivery or implementation partner alongside the government.

More than a third of the financial technology platforms surveyed reported a willingness to participate in delivering one or more COVID-19 related relief measures or schemes, yet participation rates are relatively low.

FinTechs indicated that they need more regulatory support, particularly in e-KYC, CDD, and remote onboarding.

Most financial technology firms are not yet recipients of regulatory support. But around almost 40% of regulators are actively bringing forward FinTech specific interventions to help this sector.
Funding Societies
is the largest alternative lender for SMEs in Southeast Asia, licensed in 4 countries in Southeast Asia, including Thailand, Malaysia, Singapore, and Indonesia. It specialized in short-term and secure financing, including term loans, credit lines, invoices, and supply chain finance. Funding Societies has given about $1.6 billion of loans to 70,000 SMEs, and a quarter of which are females. During the Covid-19, even though the growth was not as fast as before the pandemic, Funding Societies continued to grow. How did the company manage to broaden its market during this challenging period?
Utilize the hyper-local approach to lend wisely. The company took a very targeted approach, especially in the case of Indonesia.
Offer short-term loans, generally below six months.
Regulators have been supportive during the pandemic.

Malaysia Co-Investment Fund: MyCIF. For every $2 that the Funding Societies lent, the government co-lent $1;
Singapore: Government-backed loans. For every dollar, SG government shared 50-90% of loss during the Covid-19 period.

Though the regulatory side reacted slightly less than other countries, Indonesia's local market has recovered fast because some domestic industries, like the fast-moving consumer goods industry and the healthcare industry, remained resilient.
U GRO Capital
aims to build India's largest small business financing platform driven by data analytics and technology. The company has served more than 8,400 customers and plans to grow aggressively and capture 1% of the MSME lending space in India (i.e., an AUM of ₹20,000 Cr) in 5 years. Sixty-three million MSMEs in India consist of 38% of India's GDP, with outstanding credits of $270 billion. And as last reported, the unmet demand for credit is around $380 billion. Since the breakout of COVID-19, there was a sharp drop in the compound annual growth rate (CAGR) of MSME credit. And as the COVID-19 in India is getting worse now, everything undergoes reset.
The Government of India has taken several steps to boost the Indian MSME Sector.

Rapid clearance of receivables.
Collateral Free Loans (ECLGS).
Disallowing low-value Global Tenders.
Debt to stressed MSMEs.
Equity Infusion into stressed MSMEs.

The Reserve Bank of India (RBI), which is the central bank, provided cash flow relief to improve liquidity and ensure loan availability to the needy group.

Easing Liquidity - TLTRO scheme. In the first tranche, TLTRO had a relatively subdued response with 50% utilization. To tackle the risk appetite of banks, RBI introduced PCG to ease liquidity. With these measures, liquidity across the system eased out.
Cashflow relief. RBI offered loan moratorium for up to 6 months to borrowers, and 78% of MSMEs borrowers accounting for 70% of loans, opted for moratorium relief.
Boosting key sectors. The bank improved access to capital to the key sectors.

In India, the FinTech industry and alternative lenders are not different from banks because both are very regulated. But DFIs can also play some roles in addition to governments and regulators.

Raise more capital, raise allocation to MSMEs, collaborate, and syndicate.
Innovative Lending Platform Association
represents the premium brands in the alternative lending and online small business lending space in the United States. Scott Stewart, the CEO of Innovative Lending Platform Association, indicated that Congress appropriated a significant amount of money to support small businesses.
Paycheck Protection Program. In 2019, Small Business Administration put $30-$40 billion to support employees working in SMEs. Since the beginning of the pandemic, this number has rocketed to $750 billion.
The FinTech had an outsized influence on reaching businesses in low- and moderate-income areas. The average loan size that the association offers was under 25,000.
Small Business Administration (SBA)
has 14 different types of lenders, including community banks, FinTech lenders, credit unions, farm credit institutions, community development institutions, financial institutions, etc.
SBA regards FinTechs as referral agents and loan lender service providers to traditional lenders. Thus, FinTech sometimes partner with traditional banks to provide services.
Fintech companies advanced the digitization and the financial technology of the whole financial services ecosystem, especially during the COVID-19, when all things had to be done remotely.
To mitigate the negative impacts of the COVID-19 pandemic, governments around the world launched MSME support programs at an unprecedented scale. Alternative financiers have some of the best digital tools available to deliver government support to millions of MSMEs worldwide in an efficient and timely manner. Through the practical examples presented during this roundtable we illustrated how diverse alternative lenders have fared with government support programs for COVID-19 relief and recovery.
Alternative Financing
Covid-19
Fintech