Blog
Digital Financial Services: What it Takes to Make it Work for Women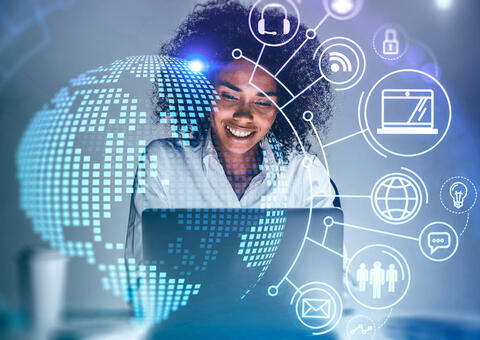 This blog is a summary of our webinar on digital financial services work for women.
Women's World Banking (WWB) conducted research in 2019, on an emerging business model known as social commerce entrepreneurship with enterprises blending social media, e-commerce, payments and delivery platforms in India and Indonesia. One of the key findings of the study indicated that, despite adopting digital platforms, women are not yet fully utilizing them. "Digital adoption means achieving a state in which users gain the ability to use digital tools as they are intended and to the fullest extent.
On September 1, the SME Finance Forum (SMEFF) and WWB organized a joint webinar on "Making Digital Financial Services Work for Women – Digital Adoption" to share learnings from WWBs work on wage digitization and digital account activation highlighting digital adoption insights from Partner Financial Institutions. Senior Officials from Wing Bank (Cambodia) Plc, Dutch-Bangla Bank Limited (DBBL) Bangladesh and DANA, Indonesia shared respective experiences. WWB's officials also gave an overview of a joint research with the ILO, published in March 2013.
Matt Gamser moderated this webinar and started with a brief overview of the results from the SMEFF 2nd quarter members pulse survey which showed clear growth in the digital channels of our members, inter alia. He subsequently introduced the topic of the day and stressed our esteemed panelists would share insights and experiences on whether women entrepreneurs handle technology differently and if there was a need for special consideration in digital transformation.
Nithyasri Sharma, Manager for Strategy and Elwyn Panggabean, Director of Advisory Services, WWB kicked off with an overview of their report indicating COVID-19 has accelerated the push towards digital payments out of necessity and convenience. This has led to a change in behavior driving digital adoption across the ecosystem and the time is right to build on this momentum and ensure women are not left behind.
However, key barriers prevent women in particular, from adopting digital payments. To ensure women can use digital payments more ubiquitously we need to build the ecosystem and we need digital adoption to develop the ecosystem. Structural barriers also existed as well as lack of trust, awareness and accessibility.
Elwyn shared practical solutions from WWBs experience in addressing some of these barriers and improving women's digital adoption including; (1) tailoring solutions to match unique needs, (2) more knowledgeable in person touch points as women have a steeper technological learning curve, (3) design solutions should offer learning opportunities to build trust, awareness and skill (4) phone ownership – shared by other family members, (5) rethink the user experience especially for new users (6) keep solutions simple, messages consistent.
Senior officials from partner institutions introduced their institutions and missions; Abedur Rahman Sikder, Chief Operating Officer and Deputy Managing Director of DBBL one of the largest commercial retail banks in Bangladesh shared their experience piloting women's digital adoption with WWB in 2019. The target group was 10 registered garment factories with over 50% of 57,000 workers being women. The pilot sought to gain insights into how women made digital transitions, key observations included the need to develop: increased touch points with agents, P2P transactions which resulted in a 24% increase in digital adoption, and focused learning/ awareness creation.
Challenges and barriers encountered included phone ownership, technology, and infrastructure, including access to smart phones, women's technological know-how, and financial awareness. Overall once women got the chance to be mentored and adopt the technology they tend to be empowered and adopt usage successfully.
Tina Samara, Chief People and Corporate Strategy Officer, DANA shared experience in advancing women's financial inclusion in Indonesia. Seven out of ten women in Indonesia use a mobile phone and per capita expenditure on mobile phone credits was higher than internet costs. However, only 2 out 10 women use the computer and internet accessibility is low. Although the pandemic forced the use of the internet, including women. The challenge now is how women can leverage the smart phone to fully participate in the digital economy as women constitute 54% with 97% women employees and 61% contribution to the economy.
Over the last 3 years offering DFS in Indonesia Dana has 80 million users with 45% female partnering 280,000 MSMEs. DANA experienced a 55% growth rate when they converted MSMEs from manual to digital. The high digital growth earned them the highest rated APP Awards in Indonesia and South Asia. DANA also forged partnerships with WWB, Governments communities as part of efforts to close the digital divide targeting female domestic workers, weavers, women-microentrepreneur's in efforts to drive women's financial inclusion. DANA's strategy is to address this important issue by engaging partnerships, and creating women-focused programs including off-line and on-line sustainable digital payments training.
Manu Rajan Division CEO, Wing Bank talked about the case in Cambodia, with a population of 16.5million. Mobile penetration is about 120% with good internet coverage however a highly unbanked population. Following an initial failure, mainly due to how they approached the unbanked, it introduced a series of innovative products including, the first physical Mastercard for the unbanked and SMEs, started a remittance business with a global coverage, first fintech to acquire a commercial banking license and start an e-commerce business. Wings current market share is over 90% with about 56% of their customers women, 80% of agents women and every 3rd merchant on-boarded also a woman. Having a significant number of women agents played a key role in positioning Wing as a market leader since the garments factory digital pay role is one of their biggest, mostly made up of women.
Driven by their mission to provide every Cambodian with convenient access to mobile services that are relevant, improve daily lives with an unrelenting focus on inclusion. The Government partnered with Wing during the pandemic to disburse social protection funds during the pandemic.
Speakers discussed experiences and prospects of digital non- financial services following a question from the audience. Wing Bank is the only Bank that had introduced digital non-financial services as part of objectives to become the digital commercial hub of Cambodia hence, they introduced e-commerce, food delivery, ticketing, and entertainment services. For most countries though this was still evolving alongside the ecosystem and financial infrastructure.
Another questioned focused on distinctive services and approaches to rural women that are different from urban women? Elwyn shared various examples including experience from an on-going project in India, and DANA indicating the need to adjust based on the existing infrastructure in rural areas. Nithya also indicated the need to use proxies to provide alternative methods to evaluate credit worthiness and unlock those doors for women. Manu also talked about how they are going one step further to use alternative data to develop algorithms that can predict credit worthiness of rural women and give them unsecured loans and to find alternate ways to guarantee repayments.
In closing remarks, speakers also discussed internal processes and staff capacity building to prepare for digital transformation. Sikder indicated there is a significant difference between pre-covid, and current approaches driven by awareness and financial incentives for increased customers. Nithya indicated three things (i) buy-in, leadership at the top as demonstrated by the senior officials in this discussion, (ii) Internal Champions also played a key role and (iii) designing and implementing staff training and capacity building. Elwyn stressed the importance of equipping internal staff, build internal capability and understanding on how to serve W-SMEs.
Overall, from our speakers experience in Asia, women entrepreneurs have unique needs and barriers in markets that require a tailored approach to developing solutions. The strategies and approaches of partner institutions in this webinar demonstrates the capability and impact of increased women's digital adoption in accelerating economic growth.