Industry events
Reuters Events Webinar: Access to Trade Finance for SMEs in the Digital Era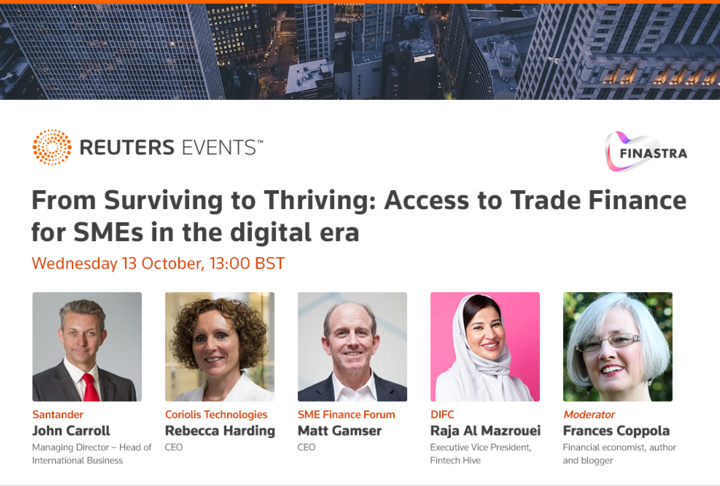 Pre-pandemic, the global trade finance gap was estimated to be 1.5 trillion USD. As we assess the extent to which this has been exacerbated by Covid-19, one thing is evident – digital solutions will play a key part in combating the challenges facing the industry. In particular, there is huge potential for technology to reduce the barriers to entry for SMEs, who face disproportionate difficulties in accessing the financing they require.
To discover how world-leading banks and fintechs are developing digitally-enabled solutions to narrow the trade finance gap, join Reuters Events for their free webinar, From Surviving to Thriving: Access to Trade Finance for SMEs in the digital era, taking place Wednesday 13 October 2021, 13:00 BST).
Here are some key learning takeaways:
What has been the true impact of disruption caused by Covid-19 on the SME trade financing landscape? Mapping key challenges and assessing their extent

Leveraging networks and orchestrating an open ecosystem to reduce friction, lower costs and increase efficiency using blockchain technology

How machine learning and AI can offer empowered, predictive analytical techniques for businesses to extract value from their data

The role of NFTs, digital currencies and other bleeding edge technologies
Our CEO, Matthew Gamser, will attend the event as the main guest speaker.
Register now to secure your place! Can't make it? All registrants will receive a recording of the webinar.