News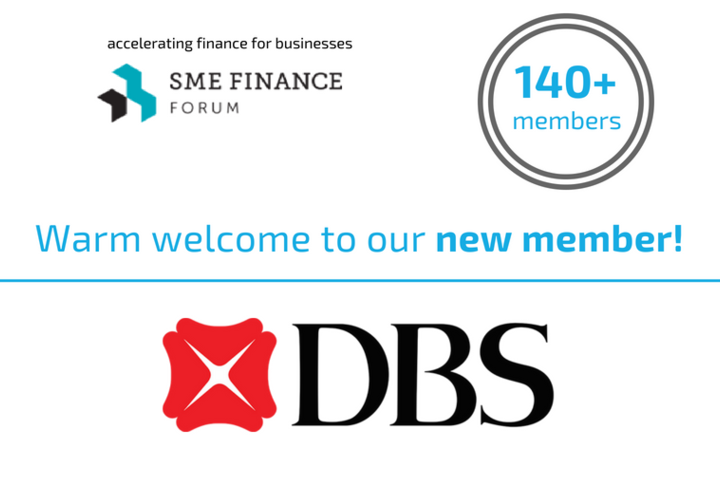 DBS Joins 140 Other Financial Institutions to Promote SME Finance
Washington, D.C., August 7, 2018 – DBS became the newest member of the SME Finance Forum, a global membership network that brings together financial institutions, technology companies, and development finance institutions to share knowledge, spur innovation, and promote the growth of SMEs.
"200 million businesses worldwide need financing to invest, grow and create new jobs. We are proud to have DBS join our network of 140 members who work to expand access to finance for small and medium businesses," said Matthew Gamser, CEO of the Forum.
Headquartered and listed in Singapore, DBS was founded as the Development Bank of Singapore in 1968 to help industrialize and build a young nation. 50 years on, the bank has come a long way. From its early days financing the growth of a multitude of industries, from manufacturing to shipbuilding, it has today become a leading bank in Asia with over 280 branches across 18 markets.
DBS provides a full range of services in consumer banking, wealth management and institutional banking. To continue staying at the forefront of the industry, it is reimagining banking, using digital technology and innovation to extend its reach, enhance its efficiencies and create tomorrow's solutions. Its efforts have been consistently recognized, with the bank being named "Asia's Best Bank" by several publications since 2012, including The Banker, Global Finance, IFR Asia and Euromoney. In addition, it has been recognized as the "Safest Bank in Asia" by Global Finance for nine consecutive years, from 2009 to 2017. Most recently, Euromoney named DBS the World's Best SME Bank and World's Best Digital Bank in its 2018 Awards for Excellence. DBS is the first Asian bank and Singapore bank to win two awards in the global category.
As a world leader in digital innovation, automation is at the heart of DBS' SME offering. It continuously reimagines how SMEs can be better served by redesigning traditional customer journeys and leveraging innovative digital solutions. DBS' SME Banking team embeds themselves in customers' ecosystems, harnessing insights and driving unique and strategic engagement initiatives to make banking seamless for SMEs. For the good work done in helping to grow SMEs, DBS SME Banking has been awarded 'Best in Treasury and Working Capital - SMEs, Regional' by The Asset for the last three years.
"The SME Finance Forum is a meaningful community that DBS is proud to be part of. We want to build sustainable SME Banking businesses for our customers, and we are confident that this membership will enhance our network, connections and partnerships across industries, markets and geographies. It will enable us to share ideas and best practices. I am certain that DBS' product capabilities, market insights, ecosystem platforms, coupled with digital and innovation-led solutions, are well placed to drive unique and strategic engagements that will prove beneficial to the SME Finance Forum and its members." said Joyce Tee, Group Head of DBS SME Banking.
To see all SME Finance Forum members, please visit: https://www.smefinanceforum.org/members/member-list
About SME Finance Forum
The SME Finance Forum was established by the G20 Global Partnership for Financial Inclusion (GPFI) in 2012 as a knowledge center for data, research and best practice in promoting SME finance. As an implementing partner for the GPFI, the International Finance Corporation (IFC) was tasked with managing the initiative. In 2015, the SME Finance Forum partnered with CapitalPlus Exchange to expand and upgrade the former Small Business Banking Network.
Media Contact
Carmen Smith
csmith11@ifc.org