News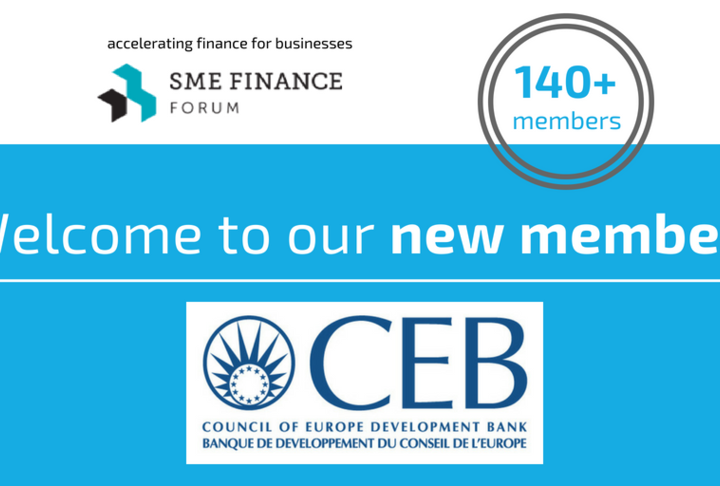 CEB Joins 140 Other Financial Institutions to Promote SME Finance
Washington, D.C., July 11, 2018 – The Council of Europe Development Bank (CEB) became the newest member of the SME Finance Forum, a global membership network that brings together financial institutions, technology companies, and development finance institutions to share knowledge, spur innovation, and promote the growth of SMEs.
"200 million businesses worldwide need financing to invest, grow and create new jobs. We are proud to have CEB join our network of 140 members who work to expand access to finance for small and medium businesses," said Matthew Gamser, CEO of the Forum.
The CEB is a multilateral development bank that finances public entities as well as MSMEs via on lending through finanical institutions.
"As a member of the SME Finance Forum, CEB staff will participate in advocacy and speaking opportunties that will accelerate finance to SMEs," said Dominique Lamiot, Chairman of CEB.
To see all SME Finance Forum members, please visit: https://www.smefinanceforum.org/members/member-list
About SME Finance Forum
The SME Finance Forum was established by the G20 Global Partnership for Financial Inclusion (GPFI) in 2012 as a knowledge center for data, research and best practice in promoting SME finance. As an implementing partner for the GPFI, the International Finance Corporation (IFC) was tasked with managing the initiative.
About The Council of Europe Development Bank
The Council of Europe Development Bank (CEB) is a multilateral development bank with an exclusively social mandate. Through the provision of financing and technical expertise for projects with a high social impact in its member states, it actively promotes social cohesion and strengthens social integration in Europe. The CEB has 41 member states who are the Bank's shareholders. All countries that are members of the Council of Europe are eligible to join the CEB.
Media Contact
Carmen Smith
csmith11@ifc.org