Blog
Efficient branch management, an important aspect of SME lending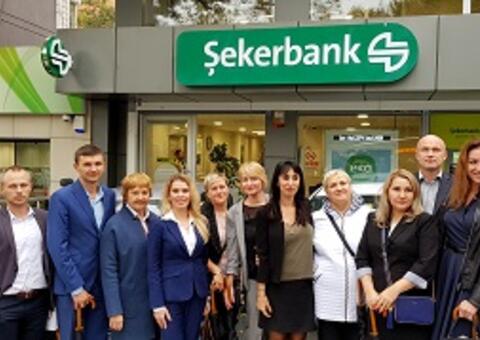 SME Finance Forum member Ukrgasbank visits Sekerbank and TEB
The SME Finance Forum organized a two-day study tour for a selected group of Ukrgasbank's branch managers to Sekerbank and Türk Ekonomi Bankası A.Ş. (TEB) in Istanbul, Turkey starting October 31, 2019. The tour was one of many, the Forum is organizing for its members as part of its knowledge sharing services.
Ukrgasbank, a member of the SME Finance Forum and IFC client, is a universal bank with a focus on green finance. Ukrgasbank has close to 250 branches across 150+ cities in Ukraine. Ukrgasbank conducted a competition among its branch managers to select top 10, who would join the study visit. The following criteria were used to select the lucky winners: non-interest income per branch employee, increase of liabilities per employee, and quality of service based on the results of "mystery shopper"! The group was joined by Vladyslav Ivashchenko, the Head of the IFO Cooperation Division, who presented Ukrgasbank's business operations during the visits.
The group visited HQs of both banks, Sekerbank's branch office and one of its SME clients, as well as one of the TIM TEB Start-up Business Houses, a startup business house model intended to encourage and strengthen local startup business, which have export potential.
Visit to Sekerbank
Sekerbank, which has 66 years of experience in community banking in Turkey and 61% share of SME loans, opened its HQ doors to Ukragasbank's group on October 31. Zeki Onder, Executive Vice President, presented Sekerbank's history and organizational structure. Enis Bulca, Head of the SME Marketing Department, presented how Turkey's economy is supported by its 27 million SMEs, how Sekerbank's organizational structure supports serving SMEs, and how their Ureten (Producing) Card Platform helps in acquisition of new SME customers. Next, Ukrgasbank's group heard about digitization and process optimization, which is underway at Sekerbank and which affects the whole loan cycle starting with digital verification of customers to loan disbursement. The group then visited Besiktas Branch of Sekerbank, which remained in the same physical location for over 40 years! The manager of the branch told about organization of customer service, main responsibilities of the staff, various ways they use to increase sales and role of digitalization. Afterwards, branch manager brought the group to one of her SME clients – language school – located next door, where study tour participants could learn about client experience firsthand.
Visit to TEB
On November 1st, TEB hosted the Ukrgasbank's team study tour. Participants had the opportunity to hear bank's executives Berk Ozturk, SME Banking Strategic Planning Senior Manager; Engin Deniz, SME Banking Transformation and Digital Marketing Senior Manager; and Tahsin Bora Nemlioglu, Start-up Banking Marketing Manager. The presentations at the HQ started from the overview of SME financing in Turkey, TEB's organization and strategy (including Non-Financial Services) and concluded with digitization transformation, including a money management app.
Afterwards, Ukrgasbank's group visited Atasehir TİM-TEB Start-Up House, one of several startup houses pioneered by TEB in 2013, operating in 10 provinces in Turkey, including Istanbul, and even one in San Francisco, California, USA, – Growth Circuit Accelarator. The objective of these houses, which serve as a co-working space for startups, is to encourage and strengthen local innovative entrepreneurs and startup businesses that generate high added value and have export potential.
The group met several fintechs, one of which – Ekinokssoftware – developed a software to facilitate consumer loans at sales points. For example, a customer comes to a store to buy a TV, and asks for a loan. A salesperson, acting as a representative for several banks, enters customer's information into Ekinokssoftware, and the system generates several loan offers from different banks, for one of which the customer can sign up for on the spot. This fintech is currently establishing partnerships with banks around Middle East. Their offering is particularly popular with people adhering to principles of Islamic finance.
Next steps
At the SME Finance Forum, I am Ukrgasbank's Relations Manager and it was my pleasure to organize and lead this study visit. Efficient branch management is an important aspect of SME lending and I am pleased that the three banks could exchange their experiences and learn from each other. We learn best by comparing.
As the next step, I would really like to see our member Ukrgasbank learn from our other two members Equity Bank (Kenya) and BRAC Bank (Bangladesh) about agent banking, which obviates the need for the brick and mortar branches. They could also benefit from learning about member DBS in Singapore, winner of the 2019 Global SME Finance Award for the SME Bank of Year, which provides many services, traditionally done through online branches. Digital revolution allows migrating many functions from the physical branches to cyber branches, saving time, cost and energy of both, the entrepreneur and the banker.
In their words
Finally, after the visit, the First Deputy Chairman of the Management Board of Ukrgasbank– Mr. Andrii Kravets – thanked the Forum for organizing the program:
"It was a valuable experience for our team to see the operation of the two leading Turkish banks from the inside. We are sure that adopting the new experience we have gained during the visit into our Bank's practices will prove very useful in terms of the branch operation organization and the development of the SME segment overall."
Please visit this link to see photos of the visit: Flickr Photo Album
Islamic Banking
Digital Financial Services