IFIs-DFIs Seek Coordination to Boost Innovations in Small Business Finance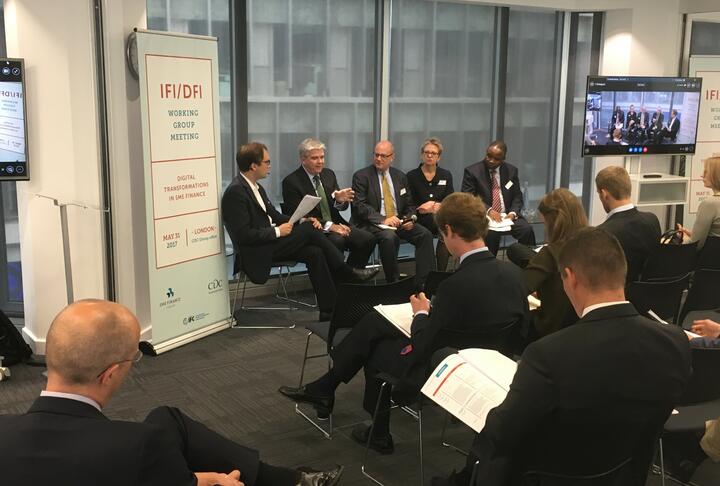 IFIs-DFIs Seek Coordination to Boost Innovations in Small Business Finance
London, May 31, 2017 - This digital transformation of small business finance has the potential to significantly expand financial inclusion for the 360-440 million micro, small and medium enterprises worldwide that have unmet credit needs. Leaders from IFIs and DFIs gathered in London to discuss how they can collaborate to boost innovations in small business finance and amplify their development impact.
Every year the IFI-DFI Working Group Meeting on SME finance brings together important stakeholders to share strategies and action plans, as well as to reflect on what works in SME finance. Around 100 participants from 40 organizations attended this year's event, co-hosted by IFC's SME Finance Forum and the CDC Group.
The digital transformation in small business finance is fueled by the growing use of internet and smartphones in emerging countries as well as the digital natives generation coming of age. Today, bank financing for small businesses is more affordable and scalable than ever because of innovative uses of technology and data. In addition, global investment in fintech companies has also increased from $1 billion in 2008 to an estimated $6 billion in 2014. International finance institutions (IFIs) and development finance institutions (DFIs) support these innovations in variety of ways including providing financing, guarantees and advisory services.
The meeting highlighted that there was plenty of room for IFIs and DFIs to collaborate and coordinate their activities. This includes pooling resources for risky and early-stage investments and sharing lessons learnt on a regular basis. Another key area where IFIs and DFIs can benefit from coordination is pooling SME data to create a complete picture for policy interventions and in the longer term harmonizing data standards and reporting requirements.