News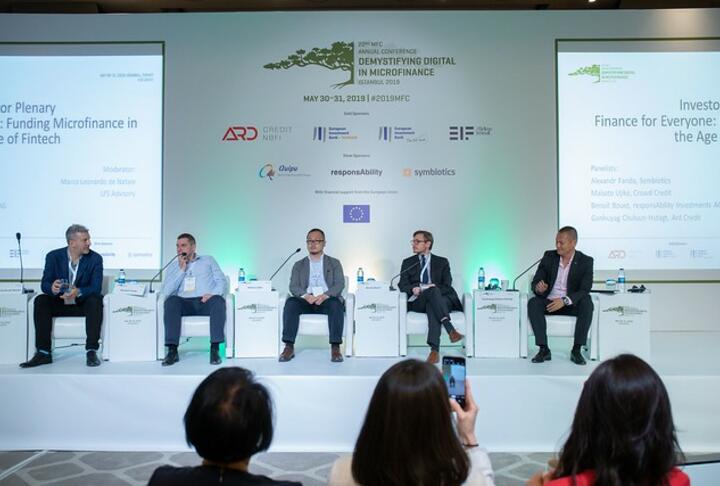 MFC Annual Conference 2019: Demystifying Digital in Microfinance
Warsaw (Poland), 06 June 2019 - On the 30th and 31st of May 2019, the Microfinance Centre (MFC) held its 22nd Annual Conference to explore the implications of the digital revolution on financial and social inclusion. The event welcomed 409 delegates to Istanbul (Turkey) representing EU bodies, MFIs, NGOs, investors and FinTechs from 46 countries across Eastern and Western Europe, Central Asia, the Caucasus and beyond.
Through 18 plenary and break-out sessions, the agenda allowed delegates the opportunity to learn about the practical side of digitalization in the financial inclusion sector through case studies, trend analysis and discussions of emerging best practice. Institutions offering digital solutions gave delegates hands-on experience with their services, and created a space to discuss what effective future partnerships might look like.
Tim Ogden, managing director of the Financial Access Initiative (FAI), keynoted the opening plenary by explaining the current dramatic trends in technology-backed finance, and offered his thoughts on the next frontier in financial inclusion.
As noted by Dimitrios Niafas (Programme Officer, EU policies, European Commission): "I was delighted to attend and to have the opportunity to present the current state of play of EU funding for the sector. I greatly appreciate the opportunity that Microfinance Centre provides to us every year to present our policies and products for supporting the sector. Overall, it was a very well-organized conference with impressive participation and a very well-structured programme covering extremely interesting topics."
In the words of Francisco de Paula Coelho (Dean of the EIB Institute): "I was impressed first of all by the organization of the event. The mix of practitioners and academicians constituted a good equilibrium of experience on the ground and theoretical knowledge, which contributed to make it an useful gathering."
Check out more delegate feedback, browse photos from the event and download workshop presentations.
About the Microfinance Centre (MFC)
The Microfinance Centre (MFC) is a social finance network that promotes fairness, inclusion, equality and responsible service. We unite 113 organisations (including 77 MFIs) across 36 countries of Europe, Central Asia and beyond, who together deliver responsible microfinance services to over 1,000,000 low-income clients.
Contacts:
ul. Noakowskiego 10/38
00-666 Warsaw, Poland
tel. (+48 22) 622 34 65

Press Contact: Nadia Szypilow - nadia@mfc.org.pl