Our events
Open Webinar: Beyond Funding, What Women Need to Advance Their Businesses?
"Examining critical Financial and Business Support Services"
A recent evaluation (1) of a partnership between Women's World Banking and Kenya Commercial Bank (KCB) has shown that a combination of financial and business support services for MSMEs provides opportunities for both women-led businesses and financial institutions. An IFC study (2) also concluded that providing nonfinancial services alongside finance could help financial institutions tap into the enormous potential of women-led enterprises. Financial services is one part of the equation, the other, business support services.
This joint event between the SME Finance Forum managed by the IFC and Women's World Banking will facilitate a conversation on how to leverage business support services in order to strengthen women-led businesses with the skills, networks and resources they need to enhance and grow their businesses. Financial Services Providers (FSPs) across Latin America, South Asia and Africa who have pioneered effective and diverse approaches to providing business support services for women-led MSMEs will share their experiences.
They will tackle questions such as:
Why provide business support services?

Who provides the business support services - the FSPs or partner institutions?

What makes for effective business support services for women-led businesses?

What could FSPs do to ensure that business support services are sustainable?
Host
Matthew Gamser, CEO, SME Finance Forum
Invited Speakers

Daniela Konietzko is the President of Fundacion WWB Colombia and Board Member of Banco W. Daniela has been President since 2013. She is also on the board of directors of AFE (Asociación de Fundaciones Empresariales de Colombia), the founding council of ProPacífico, the advisory council of Latimpacto (Latin American Venture Philanthropy Network) and Profamilia´s assembly. She has more than 20 years of experience in multinational companies and NGOs in Colombia and Europe. She writes and speaks on gender, entrepreneurship and financial inclusion. Daniela has a BA in Finance and International Relations from Universidad Externado de Colombia and a graduate degree in Senior Management and MA in International Cooperation from Universidad de Complutense de Madrid.

Roshaneh Zafar is the founder and managing director of
Kashf Foundation
, Pakistan's first specialised Microfinance institution targeting women micro-entrepreneurs through a host of financial and non-financial services. Ms. Zafar worked with the World Bank in Islamabad in the Water and Sanitation department for several years prior to setting up the Foundation. Ms. Zafar was one of the first Ashoka Fellows in Pakistan and has been a Schwab Foundation Social Entrepreneur since 2004. Ms. Zafar has also been awarded the Tamgha-e-Imtiaz, one of Pakistan s highest civilian awards, by the President of Pakistan for her work in the field of development and women's empowerment and was also awarded the Skoll Award for Social Entrepreneurship in 2007 and the Vital Voices award for Economic Empowerment in 2010. Ms. Zafar sits on the board of several institutions including the Finca Microfinance Bank, the Pakistan Microfinance Network, the Micro Insurance Network, the BEES network, the Pakistan Medical Council, Kinnaird College and Kaarvaan Crafts. She has also served as a member of the Prime Minister's Taskforce on Austerity and Federal Government restructuring and writes regularly for the Dawn. Roshaneh is a graduate of the Wharton Business School, University of Pennsylvania, USA and holds a Masters degree in Development Economics from Yale University, USA.

Abiola Nejo is the Head of Women's Banking at Wema Bank. As Head of Gender Proposition and Workplace Banking, Abiola is responsible for designing value propositions that impact the lifestyle and financial needs of women in Nigeria. In her role, she has impacted thousands of women through "Sara by Wema" by offering various value propositions such as the Sara health scheme- a first of its kind, HMO and hospital cash plan for low-income earners, microlending scheme and business advisory services. She has also been instrumental in forging meaningful partnerships with several local and international women focused groups and has positioned the Bank as a gender inclusive organization. Abiola is a graduate of Computer Science from Covenant University Ota with an MBA from Lancaster University UK where she specialized in Global Strategic Management and graduated with a distinction. She is a certified Trainer of Trainers by International Financial Corporation (IFC) and a certified Gender specialist by Financial Alliance of Women. She has attended several trainings on financial inclusion and development.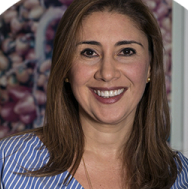 Maria Fernanda Escobar Posada is the Marketing Manager at Banco W Colombia. Maria Fernanda has been head of marketing since 2012. She was previously head of marketing at companies in the financial, services and telecommunications sectors. She is responsible for planning, directing, controlling marketing strategies, brand and products in order to achieve positioning, and preference in the market, which facilitate the acquisition and loyalty of customers. Maria Fernanda has an Industrial Engineering degree with specialization in marketing from the Pontificia Universidad Javeriana. Banco W S.A, is a commercial bank, operating under the regulations of the Superintendencia Financiera. It has its main business headquarters in Cali, Colombia. The main shareholder is Fundación WWB Colombia, whose main interest is to facilitate access to credit for the socially and economically less favored sectors, with a focus on the micro and small business sector.

Marina Dimova is the Director, Global Head of Financial Industry & Network Advocacy at Women's World Banking. Marina leads the efforts to support Network Members and financial services providers across the industry to adopt best practices, share knowhow and take tangible actions to advance women's financial inclusion. Women's World Banking's vision is to build a strong peer-learning community, which not only supports Network Members along their respective journeys to women's financial inclusion, but also is a strong voice and champion for women's financial inclusion for the financial industry. In her previous position as Managing Director of Design & Innovation, she focused on identifying and designing innovative financial solutions for women and girls. Marina is a designer with over 16 years of experience developing, implementing and scaling innovative solutions to social problems. Previously, Marina was a Vice President at ideas42 and Associate Research Director at Ikatu International. She has also worked on agricultural value chains and private sector development at the World Bank, and in finance and healthcare consulting. Marina holds an MPA in International Development from Harvard Kennedy School, and a B.A. in Economics and Government from Franklin & Marshall College.
For more information, please contact us at smefinanceforum@ifc.org
Watch the session>

(2) Non-Financial Services - The Key to Unlocking the Growth Potential of Women-led SMEs for Banks