Our events
SME Finance Virtual Marketplace - 2021 September Monthly Session - Fintechs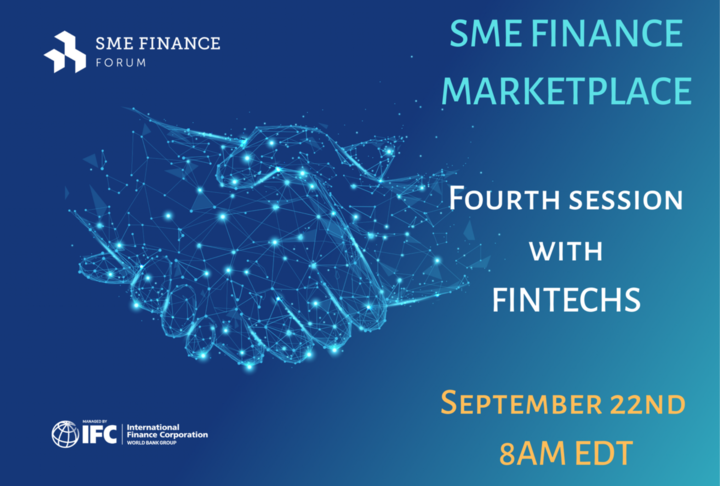 The "SME Finance Virtual Marketplace" is an online match-making platform that promotes partnership and collaboration between members of the SME Finance Forum, especially financial institutions, fintech companies and development finance institutions/ investors. The virtual Marketplace is powered by GlobalLinker, an AI powered 'Digital Ecosystem' offering SMEs a range of services to build digital presence including e-commerce.
How does the Marketplace operate?
To participate in the marketplace, each institution must have:
An institutional profile (company profile and products/services offering)

A personal profile (individuals representing the companies)
Individuals on the Marketplace can explore products and services available (investment products, advisory services, technology solutions...etc. ) and reach out to one another to discuss potential collaboration and partnership.
To learn how to set up a company profile, a listing and an individual profile, please read the User Manual in this link.
Septemebr Marketplace Session
This monthly marketplace session, scheduled on Wednesday, September 22nd from 8 am - 9:00 EDT, will feature a series of institutions who will present their products/services.
Following the presentations, participants will have the opportunities to reach out directly to the presenting institutions to make inquiries or explore partnership opportunities.
Read event summary here>
COMPANIES PITCHING
The Bloom Impact Fund is a multi-asset, diversified growth portfolio that invests in technologies and companies speeding up the transition to a better climate future.
Bnkability uses automation and a scoring system to help African businesses prepare for trade finance and project owners for investment.

Bnkability is building software that helps African traders become creditworthy and private project owners become investment ready.
CashDirector is a technology company providing banks with Virtual CFO & real-time accounting platforms for SME clients.
​With over 100 years of combined experience in technology, business, and finance, the CashNow team brings to the market a simple collaborative platform to make SME financing possible. The team is working with a seasoned board of advisors to guide them to develop innovative financial solutions for Pakistan.
Vector ML Platform is a cloud-based treasury and credit risk system built for banks and lending institutions.
PRESENTERS

Carol Caruso
is an innovative leader with 20 years global business development, inclusive finance and digital technology experience. Currently the CEO and Co-Founder of Bloom Impact, a social impact, Fintech startup, Carol has extensive experience and passion in driving social impact, innovation and inclusive finance through the use of innovative technology such as mobile apps/payments, online platforms, biometrics, remittances and agent networks. She has worked on a wide variety of digital inclusive finance initiatives and collaborated with partners such as leading Telcos (Safaricom, Airtel, MTN, Tigo), Fintech vendors, payment companies (Visa, Mastercard), Central Banks, Social Impact investors and private companies. Carol has held prior positions as SVP Digital Channels & Tech at Accion International, Managing Director of Triple Jump Advisory Services – a Dutch responsible investment manager, Financial Inclusion Expert at Kiva and EMEA Director at Broadvision. Carol brings a unique combination of experience from having worked in Europe, US, Africa, Asia, and LATAM within both private and public sectors. She is a board member and advisor for several social impact startups in Africa and the US, and a mentor and judge for the UC Berkeley BigIdeas startup competition and MIT's Inclusive Innovation Challenge and $100K Entrepreneurship Competition. During the 2017-18 academic year, Caruso joined Harvard University's Kennedy School of Government as a joint Visiting Social Innovator (VSI) at the Social Innovation and Change Initiative and Visiting Hauser Leader at the Center for Public Leadership. She continues to serve as a Beck VSI at SICI.

Emem Usanga
is the CEO and Founder of Bnkability, a technology company that ensures African trade transactions are creditworthy and investment ready unlocking capital for SMEs whilst derisking dealflow for financial institutions. Through this solution, Bnkability is aiming to contribute to moving the needle on Sub-Saharan Africa's economic development. With a business development career spanning over 15 years in advertising, she has worked for startups as well as corporates including Glow, Haymarket Publishing and WPP's 24/7 Real Media. In her spare time, Emem has been London Local Lead for the Interaction Design Foundation, Adas List Strategy Committee member and member of the UK Africa Fintech Investment Group (a DFID & DiT partnership). She is Co-Lead of TLA Africa.

Patrycja Strzelecka
is the co-founder and Chief Commercial Officer at CashDirector. CashDirector's Digital CFO solution for SMEs helps banks provide financial management services to small businesses at an affordable price. The platform allows SMEs to save time through automated daily finance management, understand their cash-flow needs in real-time, and interact online with their bank to balance short-term deficits or get funding. At the same time, through integration with their online banking platform, banks are able to obtain valuable information crucial for better risk assessment and to offer personalized on-demand products in an automated and efficient way. Patrycja's expertise include Fintech, finance and accounting management, outsourcing. Prior to CashDirector she was Managing Director at TMF Group and Head of Marketing at Raiffeisen Bank in Poland. Alumni of Barclays TechStars PwC Raise and DBS SuperCharger Accelerators Patrycja understand the dynamics of scaling companies as well as partnering with banks. She graduated from the International Silesian Business School in Poland and holds an MBA from Université du Québec à Montréal
Moazzam Ahmed
is a co-founder at Dynamic Resources – a Fintech startup focused on addressing SMEs cashflow challenges. This is the first Supply Chain Finance portal operating in Pakistan, under the trademark CashNow™ which is focused on the B2B segment of the economy. The company became operational in March 2021 and has processed over PKR 200mn in transactions. This company is focused on digitizing the SME eco-system, to improve transparency and efficiency. Before embarking on this project, Moazzam was as a Senior Country Officer in Pakistan for the International Finance Corporation (IFC), World Bank Group for over 14 years. Prior to IFC, Moazzam was a consultant with Cap Gemini Ernst and Young for over 10 years.

Sadeq Safarini
is the CEO and founder of Vector ML Analytics, the founder of Global Structured Finance ( and former senior director of Dealnet Capital, a publicly traded Canadian firm with over 500 employees He was responsible for building the treasury and securitization function in addition to being involved in the design and implementation of the business plan. His expertise in treasury, securitization, and credit risk helped the company grow its book from 50 M to 200 M by the end of 2018. Sadeq has extensive financial experience in major banks, trusts, public companies, fintech, and credit rating agencies He has held multiple consulting positions in both London and Toronto, where he was able to turn complex financial data into simple value added information to examine business plans and strategically steer businesses in the right direction. His areas of expertise include machine learning, data science, automation, credit rating, structured finance, securitization, Asset Backed Securities ( Mortgage Backed Securities ( Asset Liability Management ( liquidity planning forecasting, debt capital markets, risk management, stress testing, financial modeling, business valuation, investor reporting, capital planning analysis, compliance, and cross functional leadership.
******
Relive previous sessions here>
Core Features & Capabilities of the SME Finance Marketplace
To learn how to set up a company profile, a listing and an individual profile, please read the User Manual in this link.