Our events
SME Finance Virtual Marketplace - 2022 January Monthly Session - Investors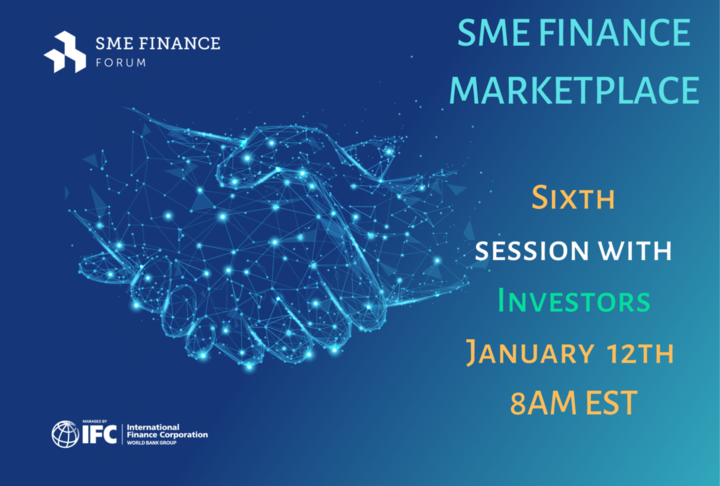 The "SME Finance Virtual Marketplace" is an online match-making platform that promotes partnership and collaboration between members of the SME Finance Forum, especially financial institutions, fintech companies and development finance institutions/ investors. The virtual Marketplace is powered by GlobalLinker, an AI powered 'Digital Ecosystem' offering SMEs a range of services to build digital presence including e-commerce.
How does the Marketplace operate?
To participate in the marketplace, each institution must have:
An institutional profile (company profile and products/services offering)

A personal profile (individuals representing the companies)
Individuals on the Marketplace can explore products and services available (investment products, advisory services, technology solutions...etc. ) and reach out to one another to discuss potential collaboration and partnership.
To learn how to set up a company profile, a listing and an individual profile, please read the User Manual in this link.
January Marketplace Session
This monthly marketplace session, scheduled on Wednesday, January 12th from 8 am - 9:00 EDT, will feature a series of institutions who will present their products/services.
Following the presentations, participants will have the opportunities to reach out directly to the presenting institutions to make inquiries or explore partnership opportunities.
Read event summary here>
COMPANIES PITCHING
FINCA Impact Finance delivers the tools needed for low-income entrepreneurs and small businesses to achieve financial health. For close to 40 years, FINCA's microfinance banks and institutions have delivered a double bottom line of social impact and financial sustainability.
REGMIFA is a private debt fund which focuses on refinancing regulated and non-regulated microfinance institutions, local commercial banks and other financial institutions, which are established in Sub-Saharan African countries and serve micro, small and medium enterprises (MSMEs).
Lendable is a technology enabled investment and alternatives platform that focuses on global impact alternatives. Lendable believes in the power of technology and finance to create a more economically just and environmentally sustainable world.
Verdant Capital is a leading investment bank and investment manager operating on a Pan-African basis and specialising in private capital markets. It boasts offices in Johannesburg, Ebene, Accra, Harare, Kinshasa and Frankfurt.
The Islamic Development Bank is a multilateral development bank (MDB), working to improve the lives of those we serve by promoting social and economic development in Member countries and Muslim communities worldwide, delivering impact at scale. IsDB provides the infrastructure to enable people to lead better lives and achieve their full potential.
G5 Capital was founded in 2014 as a growth equity investment firm focused on early stage investing and providing advisory services to high growth, powerfully branded, fast moving consumer products, technology and services companies. Furthermore, with expertise in running, owning and investing in direct-to-consumer businesses, G5 seeks out companies conducting omnichannel business with a robust presence in the internet retail, direct selling, direct response marketing, and/or social commerce segments.
PRESENTERS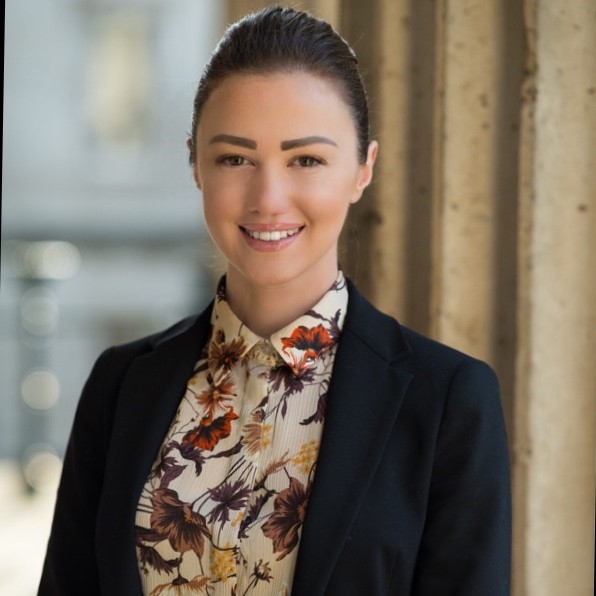 Elizabeth Davrishashvili is the Global Lead of Customer Products and Solutions at FINCA Impact Finance (FIF) with a network of 19 microfinance banks and institutions that offer innovative, responsible and impactful financial services to low-income clients. Elizabeth brings 11-years of experience in Strategic Marketing, Data-driven Sales, Product and Process Design as well as Project Management, working at Bank of Georgia (Tbilisi, Georgia), Citi Bank (London, UK) and Liberty Bank (Tbilisi, Georgia). Her major focus at FIF is to enhance the Retail and MSME segments with affordable and efficient products and services. Today, in the digital era, reaching the client is not as challenging, however, digitalization by itself brings some boundaries, therefore Elizabeth's biggest role is to provide digital product-driven Customer Journeys with flexible, fast and easy financial services. Ms Davrishashvili holds a Master's Degree in Strategic Management from University College London (UCL) and Bachelor's Degree in Business Administration from Caucasus University (CU) alongside with 1-year exchange program with Riga Technical University (RTU).
Luz Leyva is the Portfolio Manager of REGMIFA, the Regional MSME Investment Fund for Sub-Saharan Africa, a finance blended fund that is managed by Symbiotics. The Fund invests in financial intermediaries offering financial services to micro, small and medium enterprises and/or providing access to primary goods of low and middle-income households. The Fund has a loan portfolio of USD 150 million covering 21 countries in Sub-Saharan Africa. Her experience includes currency risk management and hedging in the impact investing industry and management of client relationships in international settings. She is an Economist who holds a Master of Public Administration from the School of International and Public Affairs at the University of Columbia in New York and she is also a CFA® charterholder.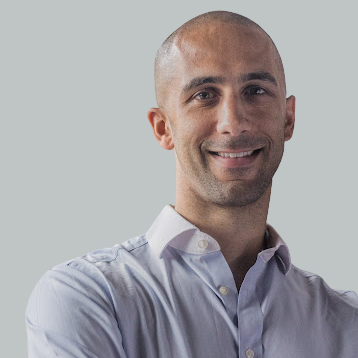 Chris Wehbé is the Chief Executive Officer of Lendable. Previously, he was a Partner of Arrowgrass Capital Partners where he served as Head of Relative Value globally for the multi-strategy firm, overseeing the Convertible Arbitrage, Volatility Arbitrage, and Capital Structure Arbitrage strategies. He also served as Chief Investment Officer for the firm's tail-hedging product the Arrowgrass Vega Fund. Prior to joining Arrowgrass, Chris was part of the European Convertible Bond trading team at Lehman Brothers. Chris has completed the CFA program and holds both an MPhil Economics from the University of Oxford, and an M.Sc in Quantitative Finance and Risk Management from Bocconi University, Milan.
Edmund Higenbottam
is the Managing Director at Verdant Capital, Edmund is an investment banker with extensive experience across London, Johannesburg, Lagos and Dubai. Prior to Verdant Capital, Edmund worked at global investment banks including Deutsche Bank and Morgan Stanley. Edmund started his career in 2001 and has worked in Africa since 2008. Edmund has a degree in Economics from the University of Cambridge.

Ghassen Khelifi is currently an Investment Specialist at the Islamic Development Bank, IsDB (A Multilateral Development Bank serving 57 Member Countries) involved in the design and implementation of Economic Empowerment projects targeting MSMEs mainly in Sub-Saharan Africa and MENA regions through the structuring of Lines of Finance/Funds/Equity investments in Financial Institutions. Ghassen holds a Bachelor's in Finance (B.B.A) from HEC Montreal (Canada) and a Master's in Finance and Investments Management (MSc) from the University of Aberdeen (United Kingdom) and is fluent in English, French and Arabic.
Chloe Zang is the Head of UK at G5 Capital, corporate venture capital of Jiangong Real Estate Group. Before G5, she was the Managing Partner of a Silicon Valley-based angel investment firm and the co-founder of its shanghai based accelerator. Previously, Chloe was the partner at Dark Horse Group (SZ300688), china's largest incubator and entrepreneurship education platform, responsible for global strategy and business growth. She gained MBA at Imperial College London and her first master's degree in financial journalism in London then worked for BBC for 2 years. Chloe started her career in consulting in China. G5 Capital is the corporate venture capital and innovation arm of Jiangong Real Estate Group, a top-tier commercial real estate company headquartered in Hangzhou, China. G5 invests in both micro VCs and startups across silicon valley, China, Australia, and the UK. G5 UK will be focusing on Scaleup startups from Angel to A, in Property Tech/Smart City/Smart Building/IoT/AI/Robots/Fintech.
******
Relive previous sessions here>
Core Features & Capabilities of the SME Finance Marketplace
To learn how to set up a company profile, a listing and an individual profile, please read the User Manual in this link.