Our events
SME Finance Virtual Marketplace - 2022 May Monthly Session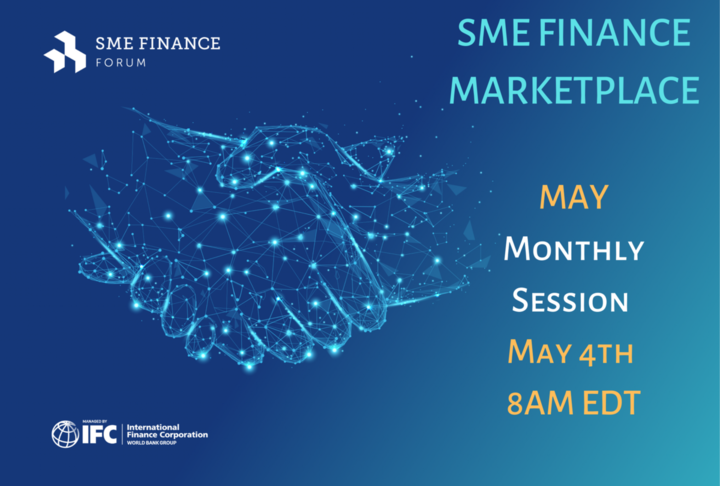 The "SME Finance Virtual Marketplace" is an online match-making platform that promotes partnership and collaboration between members of the SME Finance Forum, especially financial institutions, fintech companies and development finance institutions/ investors. The virtual Marketplace is powered by GlobalLinker, an AI powered 'Digital Ecosystem' offering SMEs a range of services to build digital presence including e-commerce.
How does the Marketplace operate?
To participate in the marketplace, each institution must have:
An institutional profile (company profile and products/services offering)

A personal profile (individuals representing the companies)
Individuals on the Marketplace can explore products and services available (investment products, advisory services, technology solutions...etc. ) and reach out to one another to discuss potential collaboration and partnership.
To learn how to set up a company profile, a listing and an individual profile, please read the User Manual in this link.
May Marketplace Session
This tenth marketplace session, scheduled on Wednesday, May 4th from 8 am - 9:00 EDT, will feature a series of members who will present their products/services.
Following the presentations, participants will have the opportunities to reach out directly to the presenting institutions to make inquiries or explore partnership opportunities based on their interests.
Read event summary here>
COMPANIES PITCHING
4G Capital is the Neobank for Africa, powering micro and small business growth to build economies and generational success. It aims to provide clients the right financial service, the right training and the right digital solution for growth, for good.
AccessHolding is a private company incorporated in Germany. It was founded in 2006 as a partnership among high profile investors from the public sphere and private sector impact investors. The objective of AccessHolding is to support entrepreneurs in developing and emerging markets by providing access to responsible and fair financial services.
Banking Circle is a fully licenced next generation Payments Bank that is designed to meet the global banking and payments needs of Payments businesses, Banks and Marketplaces. Its mission is to increase efficiency and reduce costs around cross-border transactions.
Convergence is the global network for blended finance. The platform generate blended finance data, intelligence, and deal flow to increase private sector investment in developing countries.
The Development Bank of Nigeria (DBN) was conceived by the Federal Government of Nigeria (FGN) in collaboration with global development partners to address the major financing challenges facing Micro, Small and Medium Scale Enterprises (MSMEs) in Nigeria. DBN's objective is to alleviate financing constraints faced by MSMEs and small Corporates in Nigeria through the provision of financing and partial credit guarantees to eligible financial intermediaries on a market-conforming and fully financially sustainable basis.
Fintech Group is a leading enterprise information technology solutions and services provider that is focused on helping businesses transform through cutting-edge technology solutions.
Ontology is building the infrastructure to provide trusted access to Web3, allowing individuals and enterprises to rest assured that through regulatory compliant digital identity solutions, users and their privacy come first.
Tysys is a niche Pan African Financial Services and Investments group offering expert services in Corporate Advisory, Fund Management, Wealth, SMME Development & Financing and Principal Investments in key Sectors. Its purpose is to realise real value for our stakeholders by providing holistic financial and principal investment solutions.
PRESENTERS

Wayne Hennessy-Barrett is Founder/ CEO of 4G Capital, the award-winning Neobank for Africa, delivering last-mile finance and enterprise training to small businesses in Kenya and Uganda. The Company has helped 250,000 micro entrepreneurs increase annual revenues by 82%, with $240 million + loaned since inception. Unprecedented repayment and client repeat rates are achieved by blending machine learning with personal customer service. 4G Capital partners with global and local brands, distributers and retailers to boost sales and grow value chains. 4G Capital recently closed its Series C round to scale into new markets and broaden its range of products with client digitization. 4G Capital was ranked in the top ten global B Corporation finance providers in the 2022 Real Leader awards. Hennessy-Barrett had a distinguished first career as an infantry officer in the British Army, seeing extensive active duty worldwide. He volunteers with several charities focusing on poverty, social exclusion and veterans' issues. He holds a master's degree in conflict studies from King's College London, a bachelor's degree in politics from Exeter University and attended the Harvard Business School Strategic Leadership in Financial Inclusion executive course.
Roseanne Masila is Chief of Operations Support at 4G Capital. Her focus is on Customer Care, Customer Success, Training, Marketing and HR. She has also led the introduction of a disability program as part of driving diversity and inclusion in the company. She started her career in Human Resource Administration and has climbed the HR ladder while developing other team members and constantly developing herself in different aspects. Her extensive HR generalist experience obtained from multinational companies in different industries have seen her run end to end HR processes before moving more recently into her role as Head of Operations Support.
Anna Aslanova is Senior Expert in Learning Development at Access Microfinance Holding AG. Skilled in Coaching, Talent Management, Business Planning, HR Consulting, and Training and Development, Anna has worked in the financial industry for more than 15 years. Anna is a Certified business and leadership Coach, an invited Lecturer in the field of Human Resources and Organisational Behavior. Her passion is to see people grow and prosper. Anna holds a master's degree in management from Caucasus School of Business and speaks four languages. Anna is a proud mother of two sons. Originally, Anna is from Georgia, Tbilisi but since 2018 she lives and works in Berlin, Germany.
Jon Levine is the Co-Head of Institutional Banking of Banking Circle. Prior to joining Banking Circle, Jon spent 11 years at Standard Chartered where he worked at the bank's London, Dubai and Singapore offices. His most recent Standard Chartered role was as Managing Director responsible for UK Banks, Broker-Dealers & Fintech coverage. Earlier roles at Standard Chartered included Public Sector & Development Organisations coverage across EMEA and Debt Capital Markets roles. Jon started his career at Goldman Sachs where he worked on DCM, ECM and M&A assignments in the US and Asia.

Chris Clubb has 20+ years of experience financing development projects in more than fifty emerging and frontier markets. Prior to joining Convergence, he was the Director leading European Bank for Reconstruction and Development's (EBRD) financing/investment activities in its early transition countries where EBRD increased its annual investments five-fold to become the largest investor in these low-income countries. While at EBRD, Chris innovated and implemented in partnership with more than 20 donors many of EBRD's blended finance programs – including the leading local currency program for SME finance and development. Prior to EBRD, Chris provided long-term financing to strategic European infrastructure projects while at European Investment Bank, provided cross-border financing to international buyers while at Export Development Canada, and started his banking/financing career in corporate banking at Toronto Dominion Bank. Chris has held senior strategic risk management positions at EBRD and EDC, including the design and implementation of an enterprise-wide risk management framework.

Bonaventure Okhaimo is the Chief Operating Officer at Development Bank of Nigeria. A Chartered Banker, Member of the Chartered Bankers Institute, UK and a fellow of the Institute of Credit Administration, Nigeria, with over 25 years banking experience spread across local and international banks. His vast industry experience includes, branch operations, branch management, leadership roles in Retail/SME Banking, Development Finance, Institutional Banking, Information Technology and Strategic Operations Service Delivery. He holds an LLB from University of Benin, Nigeria, a B. L from the Council of Legal Education, Lagos, an MBA in Financial Management from University of Technology, Owerri, a chartered banker MBA from Bangor University, United Kingdom and ACIB from Chartered Institute of Bankers, Nigeria.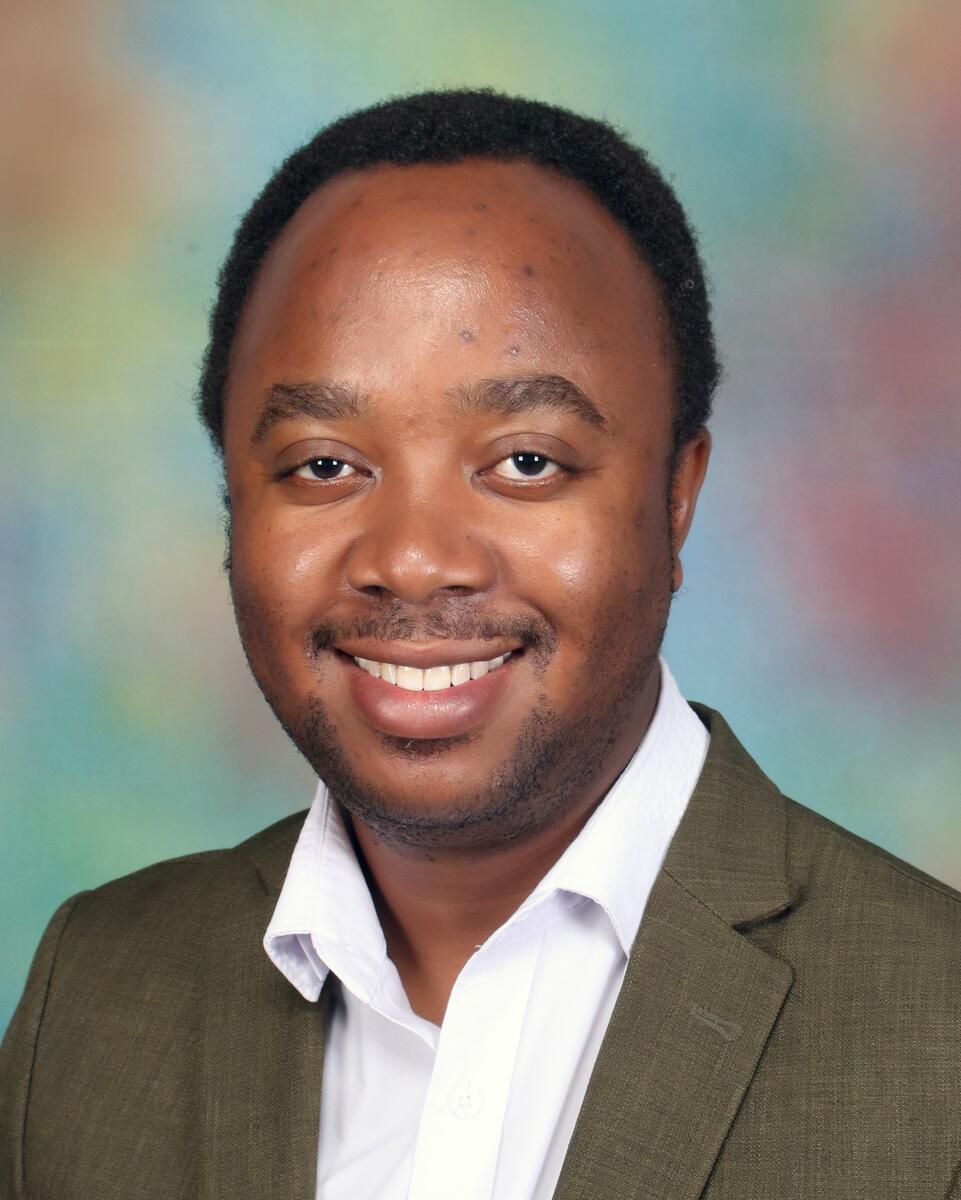 Hassan Issa
has extensive experience in Financial Technology having been in the industry for 16 years at Fintech Group Kenya & Fintech International. He has served in software development in various capacities to Senior Software Developer position.Since then, Hassan has been Product Manager (Channels), from 2009 to-date, managing various platforms including Internet & Mobile Banking, Enterprise Service BUS and Finbridge Middleware. Hassan has overseen 64 payments clearing solutions in 64 banks across Africa. He has also overseen product deployments in Uganda, Tanzania, Kenya, Liberia, Ethiopia, Malawi and more.
Li Ge is the Business Development Manager at Ontology. As an early adopter and believer of decentralized networks and data, Li has previously worked as a business solution architect serving leading global enterprises. He brings a wealth of experience to the Ontology Business Team, having co-founded the mobile AR gaming project, he also has industry expertise in Blockchain as a Service solutions. As a tech enthusiast, and a researcher of the global gaming landscape and metaverse, Li works hard to narrow the gap between the decentralized world and reality.
Modise Motloba is the founder and Chief Executive Officer of Tysys Capital Group Proprietary Limited, a 100% black-owned, managed and controlled niche financial service and investment group with expertise in Corporate Financial Advisory, Fund Management, Wealth, SMME Development & Finance and Principal investments. Modise has more than 27 years working experience in the Financial Sector both in South Africa and the United States of America. He has operational and managerial experience as well as competency in Treasury Services, Risk Management, and Wealth Planning.
******
Relive previous sessions here>
Core Features & Capabilities of the SME Finance Marketplace
To learn how to set up a company profile, a listing and an individual profile, please read the User Manual in this link.