Blog
Study Tours: Learning Best SME Finance Practices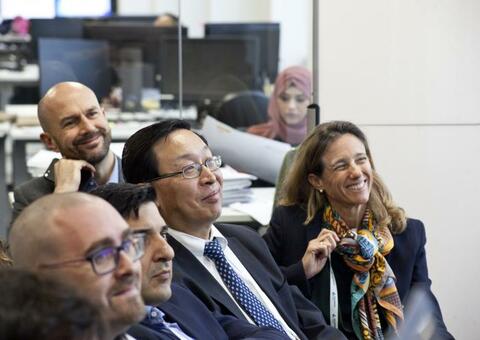 Networks such as the SME Finance Forum exist so that direct practitioners can learn from one other and offer effective models to strengthen the industry. Study tours are one of the most effective ways to provide hands-on learning experiences for professionals. This November, the SME Finance Forum will kick off its Global SME Finance Forum 2018 with a day full of study visits to 12 financial institutions and fintechs.
Thus far, the Forum has confirmed visits to BBVA's Innovation Center, Ciudad BBVA, Bewarer Funds, Ciudad Grupo Santander, Experian, GIGAS, Inbonis, Intesa Sanpaolo, MyTripleA, Traity and Twinco Capital. Having such a vast array of seasoned and new entities, while still offering various financial channel offerings, is what makes the study tour so sought after by our more than 140-member institutions and 500 Forum attendees.
---
Study Tour Hosts for the Global SME Finance Forum 2018
Adhara: Payment Platform - Multi-currency global payments platform based on tokenized money over a smart contract-enabled distributed ledger – Commercial banks, corporates and central banks 
BBVA: Commercial Bank – Second largest bank in Spain – Banking, insurance and asset management 
BBVA's Innovation Center: Innovation Hub - Gather startups, entrepreneurs and investors to harness fintech innovation - Startups, entrepreneurs and investors 
Bewater Funds: Venture Capital Management Company - Provides the opportunity to invest in shares or other illiquid assets of a single unlisted company, in Spain or other OECD countries, through a Closed End Fund - Professional investors 
Ciudad Grupo Santander: Commercial Bank and Largest Bank in Spain – Banking, insurance and investment management
Experian: Credit-Reporting Agency – Provides data analysis for credit services and decision analytic assistance - Financial institutions and SMEs
GIGAS: Cloud Computing – Provides an innovative and powerful cloud solution with superior local technical support - Spain and Spanish-speaking markets  
Inbonis: Credit Assessment - Provides SMEs with working capital loans, mainly short-term loans for owner-operated SMEs – MSMEs and financial institutions 
Intesa Sanpaolo: Commercial Bank – Second largest bank in Italy – Retail, corporate and wealth management
MyTripleA: Crowdlending – P2P Funding platform - SMEs, entrepreneurs and investors
Traity: Online reputation fintech – Enables consumers to leverage their social media/sharing economy profiles to get better deals and insurance companies to asset risk – Insured businesses or individuals and insurance companies 
Twinco Capital: Global Supply Chain – Offers a global supply chain finance solution that covers the full production cycle - SMEs and corporates 
---
For the last three years, the Forum has been organizing study tours. In the last year, some were hosted in Nairobi, Kenya and anothers in Berlin, Germany.
"It was a real-life example of what's going on in the industry. It was great to hear their story and to sort of hear how we can go about it as well," said Salima Sikutwa of Madison Bank, Zambia of the study tour with Equity Bank which took place in Nairobi in May 2018.
During that tour, a representative from Equity Bank explain the bank's history and how they compete with cash, fintechs and telecos. Participants also learned what Equity Bank does in terms of SME banking.
The tours also included visits to Commercial Bank of Africa, Mastercard Labs for Financial Inclusion, Kountable, Uber Technologies and Tala.
While the content is from diverse experiences, so are the attendees of the tour, which add another valuable dynamic. "It brings the entire ecosystem together. You have people from emerging markets as well as developed countries. You get to go on study tours and you get to see the companies first-hand," says Anju Patwardhan of CreditEase during the Berlin study tour.
Join the Global SME Finance Forum 2018 on November 5 to access study visits to financial institutions and fintechs that have best in class, innovative ways of serving SMEs clients. Priority access is given to those that register early. The registration is free for SME Finance Forum members.
The conference will showcase unique perspectives of industry leaders, rich experiences of successful practitioners, and the impactful financial innovations that contribute to improved access to financing for many micro, small and medium sized enterprises from around the world. Under the theme "Reaching the Informal: the Role of Finance in Improving the Growth and Productivity of SMEs", the Forum will explore how innovation in technology, regulation and partnerships can help overcome various informality problems, and open up a far larger market for profitable, sustainable, responsible financial services.
Non Financial Services
Supply & Value Chain Finance
Credit Risk & Scoring
Digital Financial Services
Digital Transformation
Payments