Industry Event: Speaking Role
Webinar: Helping Millions of Entrepreneurs Go Digital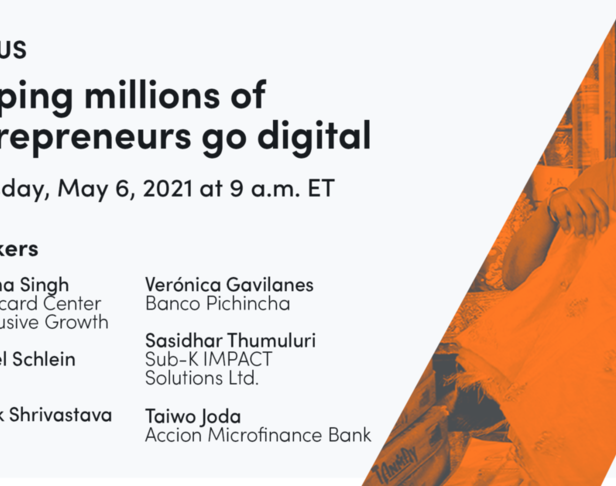 This webinar will be available in English and Spanish. The session will be recorded, and the recording will be made publicly available after the webinar.
As the pandemic rapidly moves the economy online, millions of microentrepreneurs around the world must gain the digital tools and skills they need to adapt and rebuild their livelihoods. Going digital can help vulnerable small businesses find new customers, become visible to financial institutions, and access the benefits and security of the digital economy. Since 2018,
Mastercard
and
Accion
have been working with financial service providers across the globe to develop new digital products and operating models to serve more small businesses more effectively—and help them digitally transform themselves. These efforts are critical to helping low-income families and small businesses build financial resilience for the challenges of today and those to come.
Member
Accion
will hold a webinar on May 6th. Leaders of inclusive financial service providers will discuss their progress in digitally transforming their institutions and their small business clients and the lessons they've learned along the way. The panelists of this webinar are from
Banco Pichincha
,
Mastercard Center for Inclusive Growth
, member
Accion
and member
Sub-K IMPACT Solutions Ltd.
, which is a fintech company offering affordable, accessible, and scalable financial and payment services.
Helping millions of entrepreneurs go digital
Driving an inclusive recovery through digital transformation
Thursday, May 6, 2021
9:00am – 10:00am ET
Read more information about this webinar
here
>