Our events
SME Finance Virtual Marketplace - June Monthly Session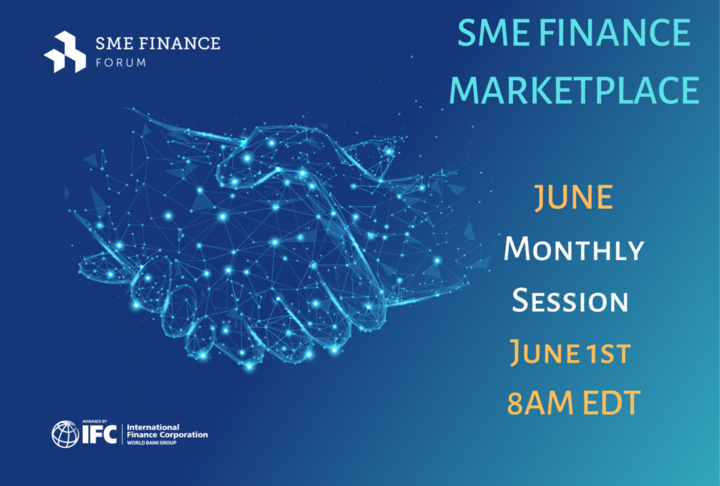 The "SME Finance Virtual Marketplace" is an online match-making platform that promotes partnership and collaboration between members of the SME Finance Forum, especially financial institutions, fintech companies and development finance institutions/ investors. The virtual Marketplace is powered by GlobalLinker, an AI powered 'Digital Ecosystem' offering SMEs a range of services to build digital presence including e-commerce.
How does the Marketplace operate?
To participate in the marketplace session, each member of the SME Finance Forum must have 1) an institutional profile (company profile) and personal profiles (individuals representing the companies) set up on the marketplace. Institutional profile shall also include products/services being offered by the members. With institutional profile and personal profile, representatives of member institutions will be able to explore different offerings by other members such as investment products, advisory services, technology solutions...etc. The virtual platform will enable members to reach out to one another to discuss potential collaboration and partnership at their own convenience.
To learn how to set up a company profile, a listing and an individual profile, please read the User Manual in this link.
Feel free to let us know should you have any questions or need any assistance to smefinanceforum@ifc.org.
June Marketplace Session
This eleventh marketplace session, scheduled on Wednesday, June 1st from 8 am - 9:00 EDT, will feature a series of members who will present their products/services.
Following the presentations, participants will have the opportunities to reach out directly to the presenting institutions to make inquiries or explore partnership opportunities based on their interests.
Access Bank
Ayo Olojede is the Group Head, Emerging Businesses at Access Bank. She is responsible for the strategy formulation to deliver the bottom-line factor of the division. Ayo has over 20 years operational banking experience in Africa and North America at HSBC and Skye Bank (now Polaris) prior to joining Access Bank. She is very passionate about the sustainable growth of MSMEs and possesses strong knowledge and hands on experience of best practices in SME banking, value propositions and risk management approaches to expand financial access to SMEs and women led businesses. Her work has achieved recognition for "best in class" SME specific credit assessment methodology both locally and internationally to expand lending to "new to Borrowing" SMEs. She is a member of the bank's Digital Council which has overall responsibility for the bank's digital strategy, approved partnership with fintech companies and monitoring the implementation of digital initiatives. She is a university scholar, a Fellow Chartered Accountant and holds an MBA degree from Kellogg School of Management, Evanston. She speaks globally on SME Finance and Business services.
C2FO
Colin Sharp leads C2FO's Global business working closely with customers, partners and banks to deliver exceptional value. Colin also acts as President for C2FO's National Working Capital Platform initiative, working with governments and policy makers to ensure that companies, particularly SME's, have access to the capital they need. Colin represents C2FO on the World Bank's International Finance Corporation (IFC) SME Finance Forum, working to expand access to finance for small and medium businesses and attends the World Economic Forum as a Global Innovator. A veteran of the enterprise software industry, Colin has held leadership roles in some of the world's top software companies. Prior to C2FO, Colin spent many years at SAP, heading a number of business areas and a member of the SAP UKI Exec Board. Colin holds a Bachelor of Engineering and a Masters Degree in Computer Science. He lives in the UK with his wife, Joanne two children, Ben and Emma, together with Jack and cat and Dexter the dog!
Lucy
Debbie Watkins is the CEO and co-founder of Lucy. Debbie has 20+ years of experience in technology for finance, mobile-enabled products and services, and business and strategy consulting. working in over 35 countries. She has led customer-centric market research and product development engagements; supported clients in technology platform needs assessment and implementation; managed multi-million-dollar projects in Asia and Africa; and built multi-disciplinary and multi-cultural teams in a number of countries. She has lived in Asia since 2000, and is based in Singapore where she is the CEO and co-founder of Lucy. Lucy is a neobank built to help women who are overlooked, underestimated, and underbanked become unstoppable by levelling the financial playing field. Lucy aims to empower women from all walks of life, by equipping them with the financial services, growth tools and peer support that they need to grow and thrive.
Secure Now

Kapil Mehta is the co-founder of SecureNow, an award-winning insurance broking firm that uses technology-based distribution to sell commercial insurances to MSMEs in India. Kapil writes regularly in the media, specifically on matters that impact policyholders. He is a director of the Insurance Broking Association of India, a policyholder representative on the Policyholder Protection Board Subcommittee of a life insurer and on the SME advisory board of a leading general insurer. He is also active in several industry associations and a Charter Member of TiE. Kapil was formerly the managing director of Prudential Financial's life insurance company in India. Still earlier, he has worked with Max New York Life, McKinsey & Company and Unilever. Kapil has studied at IIM Ahmedabad and IIT Delhi. He adores Calvin and Hobbes, and playing with Chip, his pet dog. He took to constructing crosswords during the pandemic after his attempt to have the family play Bridge failed. His first crossword was published in October 2021. Kapil's spouse is an eye surgeon, elder daughter is studying law and younger son wants to be a doctor.
Other presenters will be announced soon!

Having problems registering, use this link>
By registering to this event, you agree to the SME Finance Forum/IFC Event Privacy Notice.
Digital Transformation
Fintech