Blog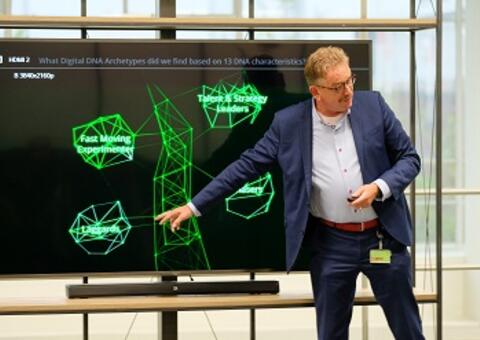 Study Visit to Deloitte Digital: The future of micro and small enterprise banking
During our annual flagship event, the Global SME Finance Forum 2019 held last October, the SME Finance Forum organized ten study visits. The Forum's study visits are an integral part of the peer learning opportunities. During these visits, organized in Amsterdam and other Dutch cities, visitors had the opportunity to learn about the latest fintech innovations and good practice in SME banking and non-financial services from local institutions.
We took one group of around 20 participants to Deloitte's innovation facility in Amsterdam called 'The Garage', a brand new space where next generation businesses can imagine and co-create using the physical and digital showroom at their disposal.
The visit started with a deep dive into Deloitte global report 'The future of Micro and Small Enterprise Banking, improving the access to finance for the underserved', followed by a presentation on 'The future of commercial and corporate banking' and two demos from the UK corporate Banking Showcase. Participants were also presented with an exemplary state of the art BPaaS solution which is currently in the process of being delivered.
Learn more at here.