Blog
Supporting Women-Led Rural Micro-Enterprises Through COVID and Beyond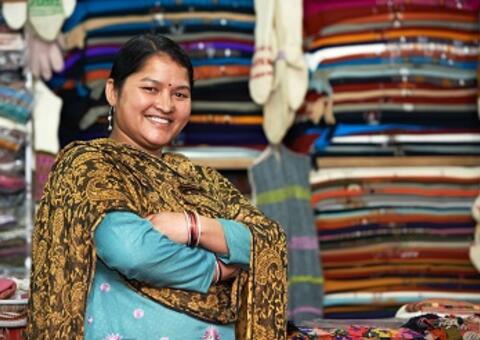 COVID19 has significantly impacted micro, small, and medium businesses in India, and now more than ever it is important to address the growing need to upskill and adapt to the changing needs of the market. A recent discussion on women-led rural micro-enterprises was conducted by Badal Malick, Co-founder & Chief Business Officer, KarmaLife and advisor,
LEAD at Krea University
and panelists Smita Ram, Co-founder & CEO of
Rang De
, Sanjay Sharma, Managing Director of
A
ye Finance
, Srinivas Ramanujam, CEO of
Villgro Innovations Foundation
, and Maneet Gohil, Co-founder & CEO of
Lal10
with opening statements by Leena Johri, Joint Secretary of Ministry of Rural Development, Government of India.**
In 2011, the Ministry of Rural Development established the
National Rural livelihood Mission (NRLM)
, which has benefited 68 million households who have accessed nearly $25 billion credit from banks over the years. The mission promotes financial inclusion and demonstrates the potential for rural women to become first-generation entrepreneurs. Apart from micro-entrepreneurs, the NRLM also helps to scale existing businesses that are part of its SAG (Self-help Affinity Groups) ecosystem. Currently, it has over one hundred thousand small businesses supported under its "Startup Village Entrepreneurship Program." In light of COVID, it has become critically important for economies to address the importance of expanding the reach of the micro-business sector with the support of the private sector. In the last few months, nearly 12,000 small businesses have been involved in providing supplies such as fruits and vegetables in rural areas with the help of private organizations such as Flipkart, ITC, and Amazon, who assist in rebranding, transportation, and e-commerce accessibility. However, as women-led businesses mature, there will be a growing need for business services, access to innovative financial products, modern technology as well as new opportunities and markets. Intervention from the private sector will support small businesses to make stronger market linkages and introduce solutions that will lead SAG women-entrepreneurs onto a transformative path.
The impact of COVID on micro-businesses across retail, peer-to-peer lending, and social-enterprise financing highlights the need for alternative skill generation to enable crisis management and meet the changing demands. In particular, the retail sector has witnessed a shift in demand from China to India, giving local artisans an opportunity to create new products. However, there is an urgent need to upskill micro-enterprises, optimize the supply chain, and provide access to technology. Aggregation platforms have an important role to play and can help local enterprises weather the shock of COVID by enabling businesses to adapt to demands shifts.
Data shows that nearly 20% of the micro-businesses are led by women but due to COVID, some markets have vanished and there is a need to re-establish these enterprises in the new environment. Business development and funding are often the main two ways to weather the current economic situation. Thanks to the MFI industry women have started borrowing but at this juncture, there is a need to ensure that adequate funding is made available for them. Additionally, women-entrepreneurs struggle with face-to-face customer interaction. From a long-term perspective, it would be essential for them to leverage technology and digital platforms to interact with vendors, sell their products, and track demand.
There is evidence that a simple tool kit to monitor operations and talent management can lead to a 30% boost in productivity. Encouraging the importance of bookkeeping not just to increase efficiency but also as proof of transactions (inflow/outflow) to be provided to lending platforms is the next step to formalizing business. Additionally, borrowing, registering for Goods and Services Tax (GST), or registering at government sites will also help establish MSMEs in India.
Some interesting data points shared on MSMEs during the webinar were that 8% on a whole have access to finance, however, of the MSME Credit demand of 45 lakh crores in 2018, only 55% was provided by the formal sector. While there is a lot of concern over credit risk in this segment which hampers the speedy movement of funds, it is interesting to note that NPAs for micro-businesses are lower than those for SMEs. PSU banks that account for 60% share of all finance flowing into the micro-business sector shared that NPA for micro-businesses was 11.7%, 17.7% for small business, and 29. % for medium business.
The key take-aways from the discussion was the importance of upskilling, technology, and private organization support in enabling micro-enterprises to weather the impact of COVID and adapt to the changing demand and market dynamics. Evidence shows that enterprises and individuals continue to express interest in helping vulnerable communities and businesses but some of the biggest challenges still lie in the formalization of MSMEs in India.
**A summary from the Webinar hosted by The World Bank, LEAD at Krea University, and Ministry of Rural Development, Govt. of India.