As 2020 started, Wandia Gichuru's eyes were set on a 40% revenue growth on her business from the previous year. Wandia is Founder and Owner of Vivo, a manufacturer and retailer of women's clothing with 14 shops throughout Kenya. Little did she know that only a few months later the world would go into a rare lockdown which would make even matching previous year's numbers a challenge.
Wandia is one of the 100 women entrepreneurs who are being supported by the
2X Invest2Impact
initiative. Founded by the development finance institutions (DFIs) of Canada, France, the United Kingdom and United States, and in partnership with the Mastercard Foundation, 2X Invest2Impact is a program targeting women-owned, small and medium-sized enterprises (SMEs) that are catalysts for positive impact in their countries and strong candidates for investments from development financiers. The program's aim is to recognize and celebrate the power of women entrepreneurs and help them reach their full potential. The initiative is an off-shoot of the 2X Challenge, a bold commitment made by the G7 DFIs to mobilize substantial capital to invest in businesses that benefit women: as owners, leaders, employees and as consumers.
Initially focused on East Africa, Invest2Impact aims to identify, support and raise the profile of high-potential, women-owned businesses with the following objectives:
•
Directly reach those that may otherwise face barriers in accessing investment capital;
•
Contribute to the community of women business owners and leaders in the region;
•
Gather and share learnings on women in business and gender-lens investing;
•
Increase the visibility and momentum for gender-lens investing; and
•
Pilot an investment prospecting model that could be replicated in other regions.
To date the project has supported 100 women-owned businesses in Ethiopia, Kenya, Rwanda, Tanzania and Uganda.
These 100 East African women entrepreneurs were selected from almost 800 applicants, and announced at the inaugural 2019 2X Invest2Impact Awards at the 2019 Global Gender Summit, held in Kigali in November of that year. The winner's group was comprised of 31 Kenyans, 26 Tanzanians, 15 Rwandans, 10 Ugandans, and 18 Ethiopians. In 2020, the winners are participating in a one-year business networking, strategy, access to finance and growth support programme.
Significance/Context
The majority of the world's population growth is expected to take place in Africa, with the continent projected to comprise more than half of the world's population by 2100 [1]. African women have been called "a powerful untapped economic force" and will be integral in addressing the development challenges Africa faces. [2]
Harnessing Africa's demographic dividend is very much dependent on the full inclusion of women across political, social and economic spheres, and this also requires the effective collaboration of the public and private sector, as well as civil society.
SMEs [3] are the main engines of job creation throughout Africa. Women's formal ownership of SMEs currently stands at around a third [4] of all registered SMEs in Africa. Gender inclusive facilitation of SME growth will be integral to improvement in these metrices, as the potential of a demographic dividend in Africa can only be harnessed if women are promoted as full economic citizens in the inclusive growth process. Women-led or owned small and medium enterprises (WSMEs) make significant contributions to growth and poverty reduction worldwide, but face greater obstacles than their male counterparts.
A light at the end of the tunnel
For entrepreneurs like Wandia, it is all about persistence and adaptation. Her business is rapidly expanding its e-commerce capability and on-line presence, via the fast-growing, multi-brand Shop Zetu on-line store she has developed, to benefit from people growing more accustomed to online shopping because of Covid-19. Shop Zetu (
www.shopzetu.com
) carries primarily African lifestyle brands, and Wandia believes it will drive the future growth of her business.
In addition, Vivo started producing reusable cloth facemasks in the beginning of April. The business has produced 500,000 units, which are sold through its stores, pop-up kiosks at malls and online. The company managed to receive large orders from security companies, banks and farming estates for their workers and the masks accounted for about 65% of Vivo's revenue in April.
With true entrepreneurial grit and determination, as well as a small helping hand from 2X Invest2Impact, 100 women entrepreneurs in East Africa are weathering the storm and hoping to enter calmer waters very soon.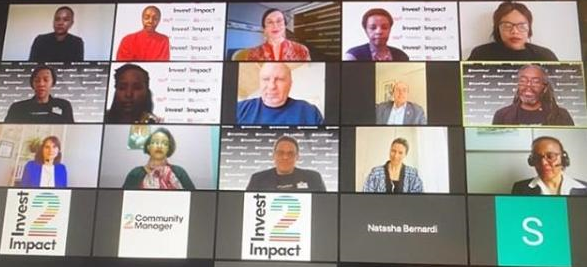 Participants in an online webinar, organized by the service provider, South-African based, Traction