Blog
Blog: Catalyzing Growth in the Female SME Economy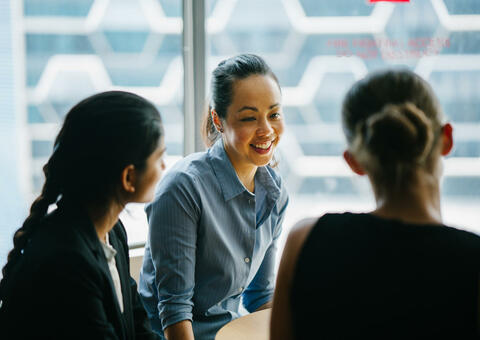 Women are underrepresented in the global economy, particularly in the SME space. SMEs account for half of global GDP and two-thirds of jobs worldwide, yet just 23% are women-owned and represent a disproportionate amount of the SME finance gap amounting to nearly $1.5 trillion. Financial services providers (FSPs) are, however, starting to recognize the enormous upside to supporting female entrepreneurs. We heard from three such FSPs – NatWest, Strands and Lidya – during our recent member webinar "Powering Prosperity: Financing Women Entrepreneurs in 2019" in collaboration with the Financial Alliance for Women.
Paul Jenkins of McKinsey & Company launched the discussion by sharing insights from The Alison Rose Review of Female Entrepreneurship, a comprehensive study of the female entrepreneurial landscape in the UK, sponsored by Chief Executive of Commercial and Private Banking at the Royal Bank of Scotland Group and conducted by McKinsey. Commissioned by the UK Treasury, The Rose Review systematically analyzed the entrepreneurial journey from intention through start-up, sustainment and scale up for both male and female owned businesses and benchmarked the UK's performance with that of the US, Canada and the Netherlands; additionally, the report identified key actions that need to be taken by the UK government, financial services providers, and civil society to close the gender gap in entrepreneurship.
The report found that two key stages are responsible for the divergence in male and female entrepreneurship: intention and scaling. Fewer women express an intention to start a business, and fewer female-led businesses scale to the size of their male counterparts'. For every 100 male entrepreneurs, 2.4 businesses will scale to asset sizes of $1 million or more, whereas only 0.5 female-led businesses will achieve the same milestone. Other barriers included representation, access to finance, and time constraints; the report posited that women were more likely to be represented in lower value-added sub-sectors, and business performance was hindered by gender bias in access to capital and disproportionate time spent caring of children and elder relatives. Still more barriers were identified, including a general lack of self-confidence among aspiring female entrepreneurs - women are 55 percent more likely than men to cite fear of founding their business alone. Relatedly, women perceive themselves to lack the skills to start a business, which was found to be much more of a misconception than a reality. Both the lack of confidence and the purported lack of skills could be attributed to the fact that women have very few role models in the entrepreneurial space. Without mentors to learn from and aspire to, women fall behind men in their entrepreneurial endeavors.
To address some of these constraints, the report's main recommendations include closing the funding gap by creating new investment vehicles, encouraging transparency in lending to women owned/led SMEs (eight of the top banks in the UK have agreed to do this as a result of the report) and demystifying the funding options for women. It further recommended creating financial products to ease the burden of caring for family members, and investment in financial and entrepreneurial education and networking for girls and women.
Yvonne Greeves of NatWest, part of the RBS Group, elaborated on her organization's dedication to accelerating finance options for female entrepreneurs. On the heels of The Rose Review, RBS became a key signatory to the UK government's Investing in Women Code, seeking to improve women's access to finance, resources and tools. Having supported women's businesses in the UK for the past 17 years, NatWest employs over 500 trained "Women in Business" specialists, conducts educational and networking events tailored for female entrepreneurs, and offers access to business accelerator hubs with a strongly supportive environment for women. Their newest venture, Back Her Business, aims to create an additional 65,000 female-led businesses by 2025, and has amassed over £1 million ($1,234,505) set aside for funding for women in its efforts to realize this goal.
Miriam Ballesteros, from Strands, a fintech partner for banks, explained her organization's position on the role of banks and financial institutions in closing the gender finance gap in SME lending. She urged that banks need to focus on cash flow management; 82 percent of small businesses fail due to ineffective management of cash flow, and since most women rely on disparate, disconnected sources of data to manage their cash flow, this is a particularly acute challenge as they work to launch their SMEs. To combat this, banks can present more opportunities for women to learn about budgeting, saving, and long-term financial planning.
Sophia Davis wrapped up the discussion with an overview of fintechs' efforts to bring ease into the space of SME financing. Her organization's mobile platform, Lidya, allows SME entrepreneurs to get access to credit online, in just one day. This is particularly convenient for women, who often have obligations that keep them tied to the home. The flexibility is key for ensuring women have the same access to credit as men.
Although women have, to date, been underrepresented and under-supported in SME financing, their central importance as economic actors is being increasingly acknowledged by financial services providers and governments. In the UK alone, women could add upwards of $250 billion to the economy if their SMEs started and scaled at the same rate as their male counterparts'. The efforts of research-based organizations like McKinsey & Company side and financial services-focused companies such as NatWest, Strands, and Lidya, are forging data driven business models that are breaking down barriers for female entrepreneurs, opening doors for equal access and equal representation in the SME sector.
This article is based on a recently held member webinar "Powering Prosperity: Financing Women Entrepreneurs in 2019" in collaboration with the Financial Alliance for Women. SME Finance Forum members have access to the webinar slides and recording through the Member App and Intranet.