Blog
Innovative Approaches in Supply Chain Finance for Women-SMEs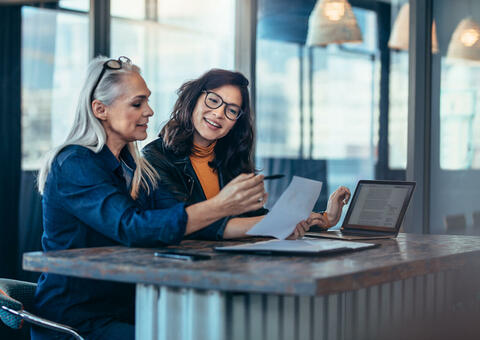 This blog is a summary of our webinar on Supply Chain Finance for Women-SMEs
Supply Chain Finance (SCF) is an effective solution to extend access to finance to SMEs by developing a technology-driven low-risk product aimed to channel liquidity to strategically important value chains. It also has strong potential to close finance gaps for SMEs, including the $1.5 trillion finance gap for Women-SME (W-SMEs).
On June 16, the SME Finance Forum organized a webinar on Supply Chain Finance for Women-SMEs to showcase innovative approaches and initiatives in Supply Chain Finance for W-SMEs. This webinar built on a successful six-part training series, covering major areas important for building successful SCF programs for financial institutions.
Matt Gamser moderated this webinar showcasing unique models and approaches across the supply chain for women entrepreneurs. Speakers shared their unique experiences in bringing more W-SMEs across the supply chain, and facilitating access to finance, through innovative products and solutions.
Elizabeth Vazquez - CEO and Co-Founder of WEConnect kicked off the webinar, re-iterating the critical role of W-SMEs in socio-economic development and achieving our SDG goals. Hence, her organizations goal is to certify and connect W-SMEs across 120+ countries to succeed in global markets. She stressed the important role of connecting access to markets to access to finance to ensure W-SMEs can compete effectively.
Kathryn Petralia - Senior Executive, American Express and Co-Founder, Kabbage shared her experience in providing cashflow financing for SMEs in general but ended up attracting more women and minority businesses due to an automated, efficient, and cost-effective platform that eliminates unconscious bias.
Ashish Gadnis – CEO and Co-Founder of BanQu shared insights on how their platform aims to ensure equitable access to global supply chains by using blockchain technology to secure an "economic passport" for those marginalized, enabling data driven bankability and low-cost financing.
Speakers delved into some barriers that have prevented large global corporations, in the agriculture, mining, fashion and recycling sector, to be willing to connect with more W-SMEs in their supply chains. Ashish identified three reasons: (i) fragmented supply chains, (ii) "green washing", underestimating the how (iii) non-recognition of critical transaction data.
Elizabeth emphasized everything WEConnect is doing is tmo ensure "we make the invisible visible" with transparency and accountability ensuring everyone benefits from that process. The world would be a better place if everyone buys from women, but the fundamental benefits and opportunities are not fully appreciated because of the lack of critical data.
From Kathryn's experience, Kabbage uses a non-traditional partnership model to market their products and use "trusted data" for example, E-bay using APIs, to obtain data for credit risk assessment and enable them reach more W-SMEs.
On data, panelists shared some insights and thoughts on some critical issues and solutions including, data ownership. Ashish shared details on how BanQu had developed an approach where the W-SMEs owned their data that they could leverage to obtain affordable financing.
A participant asked a question on how WEConnect's platform enabled big buyers give women recognizable assets that they could use to obtain financing? Elizabeth re-iterated the importance of this however, many W-SMEs are operating informally hence, WEConnect works with global partners to provide resources to move more W-SMEs into the formal stream either by building individual capacity or facilitating groups. She also shared an evolving model where some FIs are not only interested in working with women as borrowers but also leveraging the purchasing power of women and adopting a value chain approach, this also helps develop better solutions. The value chain approach is even more critical for W-SMEs because many women don't have assets to pledge as collateral to utilize the traditional methods of financing and hence the critical role of the alternative financing options being offered by Kabbage and BanQu.
To enhance asset-based lending Kathryn shared further insights on how Kabbage uses alternative data to make credit decisions, through innovative processes and technology. Ashish shared more insights on solutions that can address the inherent unconscious bias by banks in financing W-SMEs. From BanQu's experience Trust is also a missing element, mainly arising from the cost of KYC.
Affordable financing is a real challenge from WEConnect's perspective and there's a need to channel money into the hands of women, create opportunities (less volunteering) and create value for their services. The current systems make it difficult for women to move from poverty to prosperity and there's an urgency for fundamental changes, including introducing W-SMEs to buyers willing to leverage the value of women.
Speakers shared more insights on the need to go beyond financing women entrepreneurs to enable W-SMEs, optimize their full potential, maximize profitability, and contribution to economic growth. Kathryn shared an example of PPP lending in Haiti emphasizing the importance of serving SMEs better. A participants' comment affirmed that Access to Knowledge was third aspect emphasizing the need to use critical data to improve complicated processes and help W-SMEs sustainably grow their businesses and become more bankable.
Speakers further discussed the cost of financing for W-SMEs sharing insights on how to get the right product to the right W-SMEs at the right price. Estefania Angel, BanQu shared the case of providing solutions for a W-SME in the Columbian recycle industry. Elizabeth also shared the example of SEWA in India providing resources to formalize W-SMEs in the recycling industry, giving women power and ownership to enhance revenue and ensure consistency.
Another audience question on types of knowledge of interest to W-SMEs was addressed by Elizabeth and these included demystifying and ensuring fundamental equal access to knowledge and resources to enable wealth.
In conclusion each speaker shared key takeaways as follows:
Elizabeth reminded everyone, how we spend our money matters as individual consumers and organizations.
Kathryn, every business starts with one person and an idea and still grow. It does not have to be an MNC, every single business is important, and we need to give all of them a chance.
Ashish explained he got into financing W-SMEs because a bank wouldn't finance a woman but said they would finance him, and he determined that shouldn't happen again. "Every woman should be Bankable".