Blog
The Importance of Creating Markets for Women-led MSMEs post COVID-19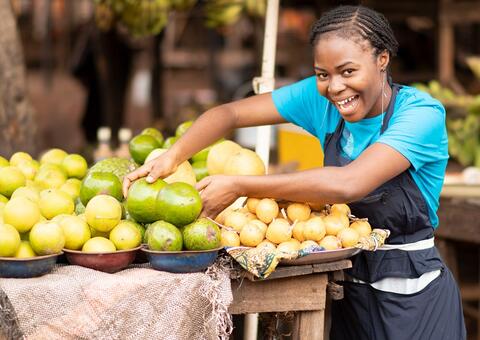 Sharmila Hardi- IFC, kicked off the webinar sharing IFC's commitment and support to W-SMEs through partner financial institution (FIs), to help mitigate the adverse impact of the COVID-19 pandemic. Survey results however indicate there is still more to do.
(i) Over 90% of SMEs suffered harsh impacts with W-MSMEs hard hit with revenue losses of over 50%,
(ii) the pandemic exacerbated W-MSMEs financial inclusion gap,
(iii) Over 90% of MSME's still plan to maintain/ expand business with W-SMEs, expressing greater need for NFS/ digital tools,
(iv) 60% of FIs collect gender disaggregated data but only 14% use data for decisions.
FIs that acted on gender disaggregated data developed more gender intelligent communication, products, and training. The report also found that Government and FI COVID-19 support reached fewer enterprises with most financing support going to relatively larger businesses, slightly higher share of W-MSMEs adapted to digitization than M-MSMEs.
The report concluded that overall, the pandemic had an impact on every country with significant disruptions to supply chains. Trade and hospitality industries were the hardest hit. However, despite all the challenges there are still opportunities to support W-SMEs optimize their full potential and contribution to the economy.
Strategic priorities for ABSA bank included: (i) W-MSMEs survival and business continuity, (ii) Staff safety, wellbeing, and ability to work from home, (iii) key sectors including health, manufacturing, (iv) introduce enhanced products to meet current needs.
She delved into ABSA's approach to help W-MSMEs boost cashflows and sustain payments, through restructuring, payment holidays. They also used their platform to offer training and webinars to W-SMEs to adjust business models, develop business continuity plans, complementing with mentorship and coaching sessions. ABSA also partnered with Government to provide relief funds.
Stanbic uses gender disaggregated data to assess savings, loans, repayment patterns and market opportunities. Findings reinforced how women are risk averse and quick to repay loans. Hence, data helped them determine loan pricing, new product needs and facilitated data driven financial inclusion.
Jesman Chonzi shared perspectives from IFC. She indicated banks have not been spared from adverse effects with pressure on revenue lines, declining performance and increased NPLs.
She however noted that the industry remained more capitalized and liquid due to various government and private sector initiatives. The industry also experienced significant digital innovation and transformation.
She concluded by saying DFIs need to work closely with partner FIs to co-create timely solutions that respond to market dynamics. There is also the need to provide more gender intelligence support and partner with Fintech's to accelerate financial inclusion for W-MSMEs. To achieve IFC's creating markets goal, it is important for DFIs to continue to facilitate growth and development of local capital markets e.g., gender social bonds. Generally, DFIs need to play a counter cyclical role, be more creative and collaborative to enable W-SMEs access much needed funding.
In conclusion Ada Osakwe expressed optimism about the future, women are fighters and in her experience W-MSMEs are thinking of new ways to expand markets, globally. W-MSMEs generally focus on their environments, communities, and employees first and need support to super charge growth.