Blog
Fintech platforms disrupting SME Finance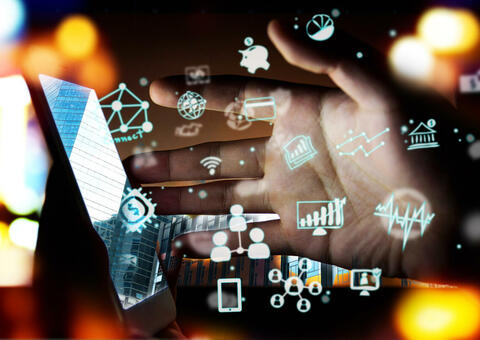 A summary of SME Finance Virtual Marketplace - Fifth Session - Fintechs
The SME Finance Forum has been featuring a series of fintech, connecting members to different techonologies and opportunities. Particularly on November 11th, the fifth SME Finance Forum Marketplace session gathered six fintech companies offering services from e-lending, public and private rating services, trade finance, humanitarian and financial inclusion services, and products. Read below a summary of their presentation.
Evaluating the quality of SMEs to anticipate defaults
Alberto García presented the uniqueness of Inbonis, a member of the SME Finance Forum. Inbonis is the first credit rating agency authorized by the European Securities and Market Authority (ESMA) specialized in rating SMEs with a unique methodology to assess SMEs. They have developed a scoring model with predictive power that can evaluate the quality and features of companies so they can be automatically assessed, which is smoothly integrated into the client's ecosystems. With no geographic limitations, Inbonis is an independent and supervised organization working in Europe, South America, and West Africa and focuses on understanding SMEs' needs and context. Their consultancy projects include access to finance for small-scale cross-border traders in nine West African countries and the World Bank. In Latin America, specifically in Argentina and El Salvador, they work on developing and calibrating credit risk scoring models for MSMEs and developing an easy-to-use API. For the Belgium Export-Trade Agency, they optimized the scoring for the debtors by finding the best estimate for missing data. To conclude, they also developed a pilot project for La Caixa, using AI-based technology to identify early detection signs of default events.
Changing the game of SME lending in the UAE: a different and scalable credit model
Lnndo, digital lending, represented by Adham Azzam, is the first to obtain a "category two" banking license for "providing and arranging credit" in Abu Dhabi and the MENA Region, allowing them to lend funds directly from their balance sheet against credit for others. Once they introduce the digital signature, they will become a 100% digital bank with a multi-country rollout in Saudi Arabia and Egypt providing accounting services for SMEs. They are the first fintech to integrate with Government institutions and their databases with the "Pass Digital Identity verification" process in the UAE, with leading e-commerce platforms and regional payment providers, and the first to provide POS-based merchant cash advances. In 2022 and 2023, their plans include their product launch in Egypt and Saudi Arabia and a Banking as a Service product. Lnndo's credit model is different as they verify the SMEs' digital business identity and online transactions through POS payment, gateway receipts, customer reviews, and government registrations. The verifications occur with the digital ecosystem of e-commerce platforms, acquiring banks, and payment providers. Their digital identity and data-driven credit transactions are changing the game by providing SMEs with loans through a 10-minute digital journey and wiring the funds within seven days. Lnndo digital journey entails real-time data integration and automation, with a quantitative model that can be scaled up and replicated across platforms based on the SMEs' digital footprint and transaction history.
Powering cross-border business for SMEs in Latin America
Jacob Shoihet, the co-founder and CEO of Marco, presented the first tech-enabled trade finance platform powering trade from Latin America to the world. They also provide factoring supply chain finance, asset-based lending, and purchase order finance, among other services. Marco focuses on providing finance solutions to SMEs in Latin American emerging markets such as invoice factoring, purchase order, or inventory financing. In addition, they help SMEs grant access to working capital to bid on new contracts, ultimately grow their cross-border business, and reach to the United States, Canada, the EU, and UK markets. From a technology perspective, Marco provides trade finance as a service, extracting critical values out of documents within the trade flow and metadata within the commercial contracts between exporters and buyers, underwriting documents, and dynamically improving and extending credit lines in different currencies. Their plans include scaling and expanding their footprint across Latin America and continuing to develop technology or use third-party platforms, and exploring partnerships with port-owner operators, shipping carriers, and freight forwarders. One of the key differentiators of Marco's platform is the ability to provide new material, credit lines of trade, and finance in an expedited fashion. To deliver, they use a new product called Underwriting Light, which offers 48 hours pre-qualification for credit line requests under US$200,000 a month, leveraging their AI-powered workflow.
Disrupting the Remittance Market with an inclusive approach
Talino Venture Labs, represented in the event by Winston Damarillo, Founder and CEO, is a venture builder based in Los Angeles, USA, focusing on inclusive fintech. Winston presented BayaniPay, a neobank for global professionals working on cross-border banking. Their offering includes an inclusive micro-insurance, a lending company for the MENA region, a reg tech company in the Southeast Asian region, a social borrowing platform in the United States, and a FinTech development community upskilling and a global marketplace. BayaniPay platform provides banking services for the international professionals anchored on remittances, serving a vastly underserved market such as the migrant professionals working in a new country sending remittances to their home countries. Their goal is to provide alternative and traditional mobile-based remittance services with a new bank approach and serve the migrant worker, specifically ethnic minority groups. Beyond remittances, they also offer loans and e-commerce opportunities. A key aspect they have pioneered is the idea of a dual jurisdiction by using a single mobile application, which creates a compliant KYC with an onboarding process, a direct digital link between two banks: one in the United States and the other in their home country. Every time the customers join, they obtain bank accounts with remittance functionalities, i.e., the unbanked immigrants automatically get a bank account, and a debit card. Trading point to point (corridor) can deliver foreign exchanges with zero transaction costs and real-time transfers. They can also create bridges from physical cash into digital, providing wallets as digital cash, pioneering the "Remit now, pay later" as a service. Talino has established the United States-Philippine corridor and they are now exploring partnerships to create a United States-Mexican corridor, and Middle Eastern-Philippine corridor, with the aim of helping migrant professionals with their banking needs.
Enabling financial inclusion with smart humanitarian solutions
National Cash Transfer Company (YCASH), presented by Muammar Saleh, is the first humanitarian specialized company established by the Central Bank of Yemen, with branches in Yemen, Cairo, and Jordan. Its mission is to provide humanitarian assistance to beneficiaries in 34 branches and more than 42,000 Point of Services including more than 21,000 community centers. They count with more than 9000 mobile teams from within the same communities. They are supported with digital solutions to make payments happen in both gathering points (temporary community centers or door to door). In addition, they work with international, national, and local NGOs and financial institutions to provide financial services and create innovations to help SMEs develop their businesses. Its mission is to provide financial services delivering cash and in-kind humanitarian assistance using best practices, and partnerships to achieve financial inclusion. Within their outreach methods, during the COVID-19 crisis, the methodologies involved going to the beneficiaries' houses to provide thier services reducing the chances of being infected. "Door to Door" payments are one of the innovations they provided during the crisis. Its services include humanitarian cash transfers for projects and beneficiaries in hard-to-reach urban, rural, coastal, and highland zones. It also includes in-kind humanitarian transfers, including food (value vouchers and food baskets). Emergencies, research and analysis, data collection are other services implemented through mobile teams using smart applications that work online and offline. Finally, their offering includes complementary services such as technical support, access to call centers, SMSs, access to microfinance services, and other integrated social protection services.
Digitizing humanitarian needs and SMEs through social media
Ysys, presented by Fares Al Najjar, is specialized in fintech and SMART Humanitarian Solutions supporting MSMEs, humanitarian actors, and development agencies in managing their businesses and projects interventions. They have been established and licensed in Egypt, focusing on markets across the Gulf countries. Their innovations include open banking, which enables MSMEs to apply and even access different financial services at any time. In addition, they use social media platforms, connecting SMEs with finance opportunities using service providers like WhatsApp, Facebook, Instagram, and Telegram. One example is their Facebook account with 2,800,000 users, which they reach out to provide microfinance services. Ysys also developed Ypay, an e-wallet already used in the Gulf countries. Furthermore, in cooperation with Ycash, they develop Ymarket, an e-commerce platform for MSMEs. A wide range of fintech solutions designed by Ysys includes:
YCredit, a platform for microfinance customers to apply for loans.
Smart cash, a warehouse organizer.
Smart business, a social media analytics system.
Smart card, a digital card system.
Smart hospital, a complete hospital management system.
Smart care, a mobile application for doctors and patients.
Smart insurance, an insurance application to manage subscriptions.
YAcademy, an educational platform.
Smart School, an innovative platform for schools, teachers, students, and parents.
Ydelivery, a customizable application to manage the delivery process.
Yship, a tracking system to monitor shipments, among the services offered by Ysys.
About the fintech presenters
Lnddo
LNDDO is the first licensed direct digital credit lender in the UAE and MENA region, a digital lending service that focuses on helping small to medium-sized businesses grow, prosper and recover from the difficulties of the COVID-19 pandemic, it aims to encourage creativity and original ideas, and strengthen the UAE's economy as a whole.
Inbonis
The first credit rating agency specialized in rating SMEs registered by the European Securities and Markets Authority. It provides corporate private and public ratings in France and Spain.
Marco
The first tech-enabled trade finance platform designed to provide working capital to SME exporters across LatAm. Year-to-day Marco has processed over $50MM of GMV across thousands of trade receivables.
Talino Labs
A global venture studio of inclusive fintech that bridges the financial inclusion gap for underserved, underrepresented groups around the world.Talino's portfolio startups include BayaniPay, a cross-border financial platform for global professionals; Saphron, an award-winning startup that makes insurance radically accessible to drive financial inclusion; Asenso, another award-winning startup that accelerates economic recovery for small business in the United States; NeoTech, a pioneering SME lending platform for the Middle East; and UNAWA, a pioneering and award-winning regulatory tech (regtech) startup unlocking ease of doing business in the Philippines.
Ycash
National Cash Transfer Company (YCASH) is the first company specialized in provision of humanitarian transfers services in YEMEN, partnering with financial Service providers & NGOs.
Ysys
A company specialized in FinTech and SMART Humanitarian Solutions. YSys systems support MSMEs, Humanitarian Actors and Development Agencies in managing their businesses and projects interventions.
If you missed previous sessions, visit this link>
Digital Transformation
Fintech