Our events
By invitation only
Much has been written about the disproportionate impact of COVID-19 on women. Even under normal circumstances women-owned micro businesses have limited access to much-needed capital and insurance and are struggling to stay afloat; while with COVID-19 women-owners face a myriad of additional strains related to their roles as family caregivers. These women-owners depend on the microfinance industry for support in several ways, which extend beyond just financing and include business guidance, networking, and access to information. Financial solutions for MSMEs often rely on relatively high-touch engagements that are difficult to maintain with social distancing. Therefore, increasing women's access to digital financial services has been identified as one of the important ways to expand access to finance, information, and networks for women entrepreneurs.
On Thursday, May 28, 2020, at 8 a.m. EDT, senior executives from Women's World Banking (a network of financial service providers committed to closing the gender gap in financial inclusion), Microfund for Women (private non-profit company operating in Jordan), and Card Bank Inc (a microfinance-oriented rural bank), will share how they have been impacted by COVID-19, and how they are innovating to stay effective and support their clients.
About COVID-19 Virtual Roundtable Series
In times of crisis, accurate and timely information is key. Sharing knowledge and practical experience are proven forms of investment that pave the path to success. With the purpose of helping our members build their own knowledge advantage, the SME Finance Forum facilitates activities and learning opportunities with the strategic approach of collecting and disseminating the best practices, while connecting SME finance experts and practitioners within our global network. Starting in late March, the Forum hosts weekly virtual roundtable sessions focusing on mitigation efforts used to cope with COVID-19, sharing those experiences in a continuous and real-time basis. Learn more>
What you will learn
How do financial service providers remain connected to their women-owned MSME customers through COVID-19 lockdowns and social distancing orders?
How is COVID-19 changing the way and intensity with which women-owned MSMEs access and utilize digital financial services?
Is COVID-19 crisis creating new opportunities to accelerate the achievement of inclusive financial growth for women-owned MSMEs?
MAIN HIGHLIGHTS OF THE SESSION
Host and Moderator
• Matthew Gamser, CEO, SME Finance Forum
About the Speakers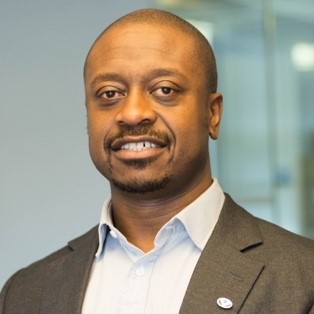 Ade Ashaye is the Executive Vice President of Women's World Banking. Ade joined WWB in 2018 and leads Women's World Banking's efforts to grow and broaden the network of financial service providers –incorporating retails banks, microfinance institutions, fintechs, mobile network operators and insurance providers –committed to closing the gender gap in financial inclusion. This growing network currently consists of 51 network members with a reach of 67 million women customers. Ade was most recently Managing Director of Visa West Africa, responsible for overseeing Visa's relationships in Nigeria, Ghana, Sierra Leone, Gambia, and Liberia. He also previously served as a member of Women's World Banking Africa Advisory Council. Ade received his engineering degree from the University of Surrey, England.
Muna Sukhtian is the Managing Director of Microfund for Women. Ms. Sukhtian started her career as a management consultant in the US, before returning to Jordan to work in her family's multinational pharmaceutical business. With a passion for social service, she then served as Chief of Staff to Her Majesty Queen Rania Al-Abdullah. She is currently the Managing Director of Microfund for Women (MFW), a not-for-profit company that primarily serves low-income women who are unable to access the services of conventional financial institutions. Today, MFW has around 750 employees who serves 150,000 beneficiaries,96% of them women, through 61 branches across Jordon. The organization has received many regional and international awards. Muna Sukhtian is Co-chair of Women's World Banking Board of Trustees, a member of the Board of Trustees of Crown Prince Foundation, founding board member of Sanadcom for Business Finance, she is also a board member at GMS Holdings, Queen Rania Award for Excellence in Education. Muna has previously served on the boards of Washington based Consultative Group to Assist the Poor (CGAP), a global partnership of 34 leading organizations that seek to advance financial inclusion; The Queen Rania Teacher Academy; Greater Amman Municipality and The Royal Film Commission-Jordon. She holds a bachelor's degree from Harvard College and an MBA from INSEAD. She lives in Amman with her husband and three children.
Mavic Austria is the President and CEO of Card Bank Inc (a microfinance-oriented rural bank and a member of Center for Agriculture and Rural Development's Mutually Reinforcing Institutions-CARD MRI). Mavic has been with the CARD MRI for twenty-six years and was assigned in different Units like Internal Audit, Compliance, and Risk prior to this current position. Attended short courses (Advanced Management Program (AMP) and High Potential Leadership Program) at Harvard Business School which both part of the development for the bank's succession of management. Mavic also completed Executive Masters in Business Administration (EMBA) at the Asian Institute of Management wherein a Strategic Management Project (SMP) related to Internal Control was successfully defended in April 2007. She is married with three children (two girls and one boy).